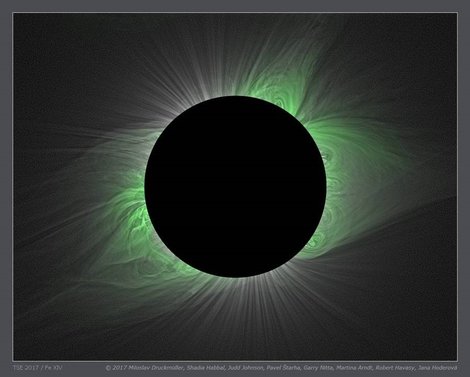 Story Series
News Feature
Physics Professor Martina Arndt plans to travel to Chile and Argentina to see a July 2 total solar eclipse – and she'll be bringing along a few BSU students. The Bridgewater team will join Dr. Arndt's colleague, Dr. Shadia Habbal of the University of Hawaii, and students from that school.
Dr. Habbal secured nearly $35,000 from the National Science Foundation to fund the students' participation. Both universities serve first-generation students and others who may not be able to experience an eclipse without this type of program.
Once on the ground in South America, the team plans to split up and go to three locations, where they will use cameras and other equipment to study light from the sun. They hope to gather data from the sun's upper atmosphere, or corona, because scientists are trying to understand why the corona is hotter than the solar surface, Dr. Arndt said.
"The main body of the sun is so bright we can't see the corona, which is 1,000 times fainter than the surface of the sun," she said. "An eclipse is a time when the moon blocks that bright light so you can see the sun's upper atmosphere."
While their focus is on science, the team will likely also have time to explore the region, sample foods and discuss their research with locals. 
"Eclipses have made me more of a global citizen," Dr. Arndt said. "The 11 I've gone to have brought me all around the world to places I wouldn't have gone."
Dr. Arndt became hooked on total solar eclipses at first sight. Actually, before first sight.
In 1997, the Bridgewater State University physics professor ventured to Mongolia to conduct research during an eclipse. But, Mother Nature intervened, bringing a snowstorm that masked the phenomenon. Even though weather foiled her plans, Dr. Arndt knew she wanted to see more eclipses and continue to be part of the teams that conduct research. 
Since that first journey, she has traveled on 10 eclipse expeditions, including trips to Australia, Svalbard in Norway, and Enewetak, a Marshall Islands atoll in the Pacific Ocean.
Introducing Bridgewater students to her passion is one of Dr. Arndt's favorite parts of being a scientist. 
"I think of it as an adventure," she said. "That's what science is."
For more information, contact Dr. Arndt at marndt@bridgew.edu. BSU physics majors can click here to apply for a spot on the trip. (Eclipse photo copyright Miloslav Druckmüller, Shadia Habbal, Judd Johnson, Pavel Štarha, Garry Nitta, Martina Arndt, Robert Havasy and Jana Hoderová)