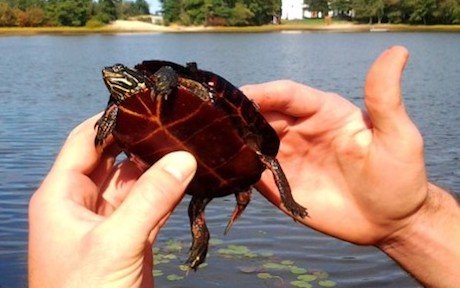 Story Series
News Feature
Bridgewater State University's mascot may be the bear, but it's the turtle that is unlocking the wonders of scientific discovery.
Turtles are central to recently published research projects by biological sciences professors Drs. Donald Padgett and Christopher Bloch and their students.
Bloch's project was part of the Ecological Research as Education Network, a coalition of faculty at teaching-focused institutions.
"The goal was to give undergraduate students meaningful research experiences," he said. "It's been very well-documented those types of experiences are high-impact practices that improve the success of undergraduate students and help propel them into scientific careers."
Bloch worked with more than a dozen researchers around the country to see how urbanization affects turtle demographics. For example, they expected to find smaller proportions of adult female turtles in urbanized areas since females could get struck and killed by cars as they search for places to lay their eggs. 
He and other researchers worked with undergraduates to trap, inventory, and release turtles at both urbanized and rural bodies of water. The Bridgewater contingent worked at ponds in Southeastern Massachusetts.
The results, published in the journal Conservation Biology, were surprising, since researchers found more female turtles in urbanized areas. They are unsure why, and plan to do more research. 
Meanwhile, Padgett's team studied whether Eastern painted turtles can transfer water lily seeds from pond to pond. Their research, which was based on turtles from Bridgewater ponds, appeared in Aquatic Botany and was written about in Frontiers in Ecology and the Environment.
They found turtles can ingest seeds, go to a different pond, and then release them when eliminating waste. Many seeds are viable come springtime.
While researching water lilies (which are native plants), the team found turtles could conceivably spread seeds of invasive plants that clog water bodies. They may also help spread the seeds of endangered native species, Padgett said.
This type of research "was never done on turtles around here," he said. "I thought 'Why don't we be the first?'" (Painted turtle photos by Jacquelyn Shuster, '14)