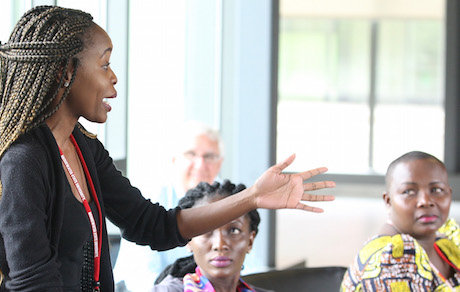 Story Series
News Feature
Twenty-five of Africa's brightest emerging public-management leaders have arrived on campus and have embarked on a six-week academic and leadership institute. 
This is the second consecutive year Bridgewater State University has been selected as a partner with the Mandela Washington Fellowship for Young African Leaders, which is the flagship program of the Young African Leaders Initiative (YALI). The program empowers leaders from Sub-Saharan Africa through academic coursework, leadership training, mentoring and networking opportunities.
This year, 1,000 fellows will participate in 40 institutes offered by 38 colleges and universities across the United States. Approximately 64,000 applications for the program were received from all 46 Sub-Saharan nations.
The fellowship, which began in 2014, has engaged 2,000 young leaders – women, men and individuals with disabilities – from both rural and urban areas in every country in Sub-Saharan Africa. Each participating institution has an area of specialty: Bridgewater's is public management. Other schools focus on business & entrepreneurship or civic leadership. 
These emerging leaders, ages 25-35, have established records of accomplishment in promoting innovation and positive change in their organizations, institutions, communities and countries. Following their academic residency, the fellows will visit Washington, D.C., to participate in the Mandela Washington Fellowship Summit. 
During the multi-day event, fellows take part in networking and panel discussions with each other and U.S. leaders from the public, private and nonprofit sectors.
The Public Management Institute at Bridgewater, under the leadership of Dr. Wendy Haynes, interim dean of the College of Graduate Studies and former coordinator of BSU's master of public administration program, is tailored to fellows who work, or aspire to work, in all levels of government, regional or international organizations, or other publicly minded groups and think tanks.
"We are thrilled to welcome 25 Young African Leaders to our campus again this summer," Dr. Haynes said. "The 2016 institute engaged the entire campus community and partners throughout the commonwealth in a rich array of cultural, service-learning and academic activities. It was a mutual learning experience and we are fortunate to now include the 2016 fellows in the BSU extended family. Summer 2017 promises to be equally wonderful and rewarding."
Bridgewater's academic team of six leaders, under the direction of Dr. Michael Kryzanek, professor emeritus of political science, will address a particular topic during each of week of the program as follows: 
 Meet the BSU team involved in the program. 
Morning classroom sessions will also include meetings with practitioners while afternoons will feature site visits associated with an interest in that week's topic as well as a variety of community service and team-building opportunities. Each fellow has a peer collaborator who works in the region and will act as a mentor.
Bridgewater's 2016 fellows represented 15 African nations. Highlights of their stay at the university included participating in the town's Fourth of July parade, community service work at Fr. Bill's and Mainspring as well as the Greater Boston Food Bank, a visit to the Old Colony Correctional Facility as part of the criminal justice component of the program, participation in Nelson Mandela Day in the Hall of Flags at the Massachusetts State House in addition to visits to Newport, Boston and Providence, as well as to other higher education institutions in the commonwealth.
Upon returning to their home countries, the fellows continue to build the skills they have developed during their time in the United States through support from U.S. embassies, USAID and affiliated partners through regional conferences, professional practicum experiences and mentoring opportunities.
Bridgewater is the only institution in Massachusetts hosting the fellows this summer. Others in New England are Dartmouth College and the University of Maine at Orono.
Working closely with the U.S. Department of State's Bureau of Educational Affairs and its implementing partner, IREX, host institutions are charged with designing academic programs that will challenge, inspire and empower these inspiring young leaders from Africa.
The Mandela Washington Fellowship for Young African Leaders is a program of the U.S. government and is supported in its implementation by IREX. For more information about the Mandela Washington Fellowship, visit youngafricanleaders.state.gov or join the conversation using the hashtages #YALI2017 or #MandelaFellows. (Story by Eva T. Gaffney, G '01, for University News & Digital)