The Office of Community Standards supports the development of a thriving learning environment by helping students learn the value of their rights and to realize the importance of their responsibility as members of the campus community, and in all communities of which they are a part. The Office of Community Standards accomplishes this by responding to reports of violations of the Bridgewater State University Student Code of Conduct through the Community Standards process.
We appreciate that the student conduct process can sometimes feel complicated and overwhelming, however we are always happy to help answer questions via telephone or email.
The following documents are designed to help answer questions about the Community Standards process and the Student Code of Conduct here at Bridgewater State University.​
The Process​
​Forms
Title IX Training Compliance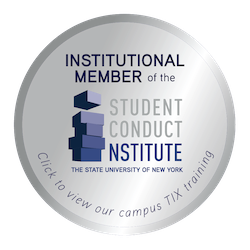 In compliance with the requirements of Title IX, 34 C.F.R. § 106.45 (b)(10)(D), BSU has provided required training to all Title IX personnel including Title IX Coordinator, Administrative Investigator(s), Decision-Maker(s), and Facilitator(s).
In June of 2020, Bridgewater State University became a member of the SUNY Student Conduct Institute. The SUNY SCI provides in-depth digital training modules that BSU uses to train its Title IX Coordinator, Investigators, Hearing Officers/Decision Makers, Appeal Officers, and other university personnel. The trainings detail best practices in the investigation and conduct process that comply with applicable case law, Title IX guidance, and the Clery Act.