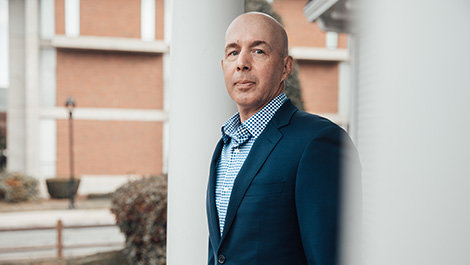 (BSU alumni) stack up against the best in the business, and I attribute that to the education they've received at Bridgewater. 
Rob Cozzone, '94, doesn't have to look far to find fellow Bears among his Rockland Trust colleagues. He's one of three executives at the community bank who graduated from Bridgewater State. Additionally, BSU alumni often turn up at the top of candidate pools for new job listings.
"Those individuals stack up against the best in the business, and I attribute that to the education they've received at Bridgewater," said Cozzone, who is Rockland Trust's chief operating officer.
He would know. Cozzone credits his time at Bridgewater with preparing him for success. A transfer student, he appreciated the rigor of his courses as he earned a degree in management with a concentration in finance. Thanks to classes with Dr. Joseph Stanford, Cozzone developed a passion for corporate finance and strong related skills such as valuing firms and investments.
"He had the most significant impact on my time at Bridgewater and also influenced the direction of my career and preparedness for my career and graduate studies," Cozzone said.
He earned a graduate degree from Boston College and has worked at Rockland Trust since 1998. Cozzone has fulfilled various roles with the company, including banking officer, treasurer, chief financial officer and, since 2019, executive vice president and chief operating officer for both Rockland Trust and its parent bank holding company, Independent Bank Corp.
Cozzone joins Director of Human Resources Maria Harris and Treasurer Jon Nelson as Bridgewater alumni among the bank's leadership. He said he enjoys the close connection with customers that comes from working for a community bank.
"I love community banking," he said. "I love the finance aspect of running a business and that's where I've spent most of my career."
His current job includes oversight of consumer and business banking as well as the finance division.
Cozzone has also become part of the local community, serving on the Plymouth Philharmonic Orchestra Board of Directors and the Finance Committee of Plimoth Patuxet (formerly Plimoth Plantation).
And, as a member of the advisory board for BSU's Ricciardi College of Business, he helps provide today's students with the same educational opportunities he enjoyed.
"It gave me a much greater appreciation for the quality of education one can get from a state school," Cozzone said. "I didn't have that appreciation prior to going to Bridgewater State."
Do you have a BSU story you'd like to share? Email stories@bridgew.edu.