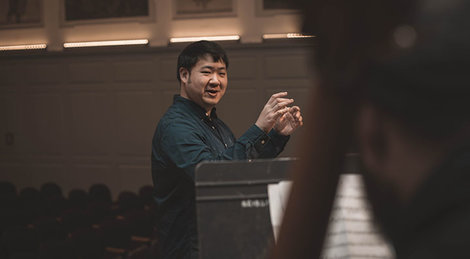 "It's like a story of David and Goliath. It's amazing. We're ecstatic."
Bridgewater State University's Dr. John Shiu has a place in Grammy history thanks to his skillful playing of a large string instrument.
Shiu, who directs BSU's String Ensemble and teaches part-time in the Department of Music, is assistant principal double bassist with the Boston Modern Orchestra Project. The ensemble recently won the Grammy for Best Opera Recording for its rendition of Fantastic Mr. Fox, which is based on a children's book of the same name by Roald Dahl.
"It's fantastic," said Shiu, who played his low-pitched double bass on the Grammy-winning recording. "It's really fabulous to get recognized."
The award is especially meaningful because the orchestra faced competition from stalwarts of the opera music scene such as the Dutch National Opera and the United Kingdom's Orchestra of the Royal Opera House.
"It's like a story of David and Goliath," Shiu said. "It's amazing. We're ecstatic." 
Shiu's instrumental journey began as a young child intrigued by his older siblings' musical talents. Sometimes, he played with his sister's violin, plucking the strings so hard they broke. The bass, with its heavier strings, better withstood his experimentation, so he started learning that instrument.  
He has worked at BSU for about five years.
"I really enjoy teaching at Bridgewater State," he said. "It's the humble nature of the students. They're working hard –  two jobs, going to school full time. They're really serious and they really can be shaped and molded. … They're passionate about music and eager to learn from people in the field."
Students, he said, will be successful if they put in the effort. He points to his own experience: It took Boston Modern Orchestra Project many tries to overcome the proverbial Goliath, but the ensemble finally earned a Grammy.
"As long as you stick with it, doing the work," he said, "it will happen."
Do you have a BSU story you'd like to share? Email stories@bridgew.edu.