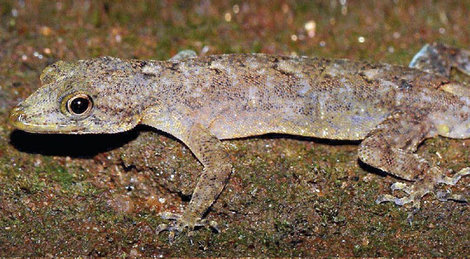 It's a new contribution to science. That's what excites us most.
You may think of a gecko as the cute cartoon character in insurance company commercials. But they do actually exist, and Bridgewater State University's Dr. Thilina Surasinghe is helping discover new species of the tiny lizards.
Surasinghe and his international colleagues documented seven new species in Sri Lanka. And they're looking for more.
Geckos are beautiful, but hard to observe, the associate professor of biological sciences said.
"They blend really well into their environment," said Surasinghe, who is working with scientists from a variety of environmental, research and educational organizations.
Surasinghe discusses the project in his BSU classes and hopes students understand the effort that goes into discovering a new species.
Their work, published in the journals Vertebrate Zoology and Zootaxa, is challenging in part because it's impossible to determine visually if you've actually found a new gecko species. So, the team analyzes genetics and takes a plethora of intricate measurements, sometimes of body parts as small as a finger or cephalic feature. They study the data and compare it to listings of known species in Asia to make sure they have indeed uncovered a new one.
"The genetics and quantitative measurements help us to differentiate species that otherwise would have looked exactly the same," Surasinghe said.
The researchers also rely on geographic and geologic factors. Rivers, for example, are physical barriers that keep a group of geckos isolated from others.
So, what do you call a new species of gecko? Surasinghe and his colleagues follow international naming conventions, but there is room for creativity. They named some after famous Sri Lankan historical figures and geographic locations and plan to name future discoveries after scientists.
Surasinghe, who is a Sri Lankan native, contributed by planning activities, analyzing data and writing articles. Others researched in the field in Sri Lanka.
The country is ripe for more discoveries because its biodiversity went largely unexplored for decades. Finding new species helps scientists understand evolution and informs conservation efforts.
"It's a new contribution to science," Surasinghe said. "That's what excites us most."
Do you have a BSU story you'd like to share? Email stories@bridgew.edu.