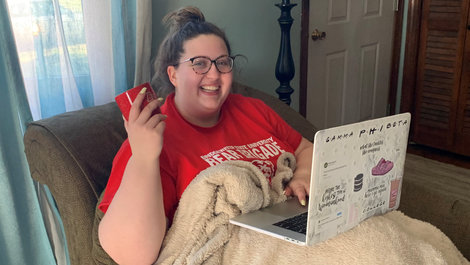 "You're your own biggest support system. Get in your own head space and know that things will be okay."
Bridgewater State University's Bailey Cormier, '22, fully expected to spend the balance of the spring semester on campus interacting with her professors and peers. However, the ongoing pandemic changed things. Now she will be finishing the academic year from her home in Acushnet.
"You never really think it's going to be something big, until it is," she said. 
Due to the COVID-19 outbreak, BSU officials were forced to make some difficult decisions.
At first administrators remained hopeful. In response to the public health emergency, President Frederick W. Clark Jr. initially announced that classes would be canceled the week of March 16-20.
As fears of the outbreak grew and new guidelines were issued from the state, BSU officials announced that beginning the week of March 23, the university would forgo face-to-face class meetings, moving fully to online/remote learning.
The pandemic has closed schools at all levels across the United States. Also shuttered are restaurants, bars, theaters and nearly all entities not deemed essential.
[BSU has put together a special webpage featuring COVID-19 information. You can find it here.]
Bailey, who typically lives on campus and is also a resident adviser, admits the news was upsetting, but she is taking it in stride.
"I think it's important to be going to a school that cares as much as BSU does. I'm thankful. They didn't cancel things right away, instead they hoped they were going to be able to make it work," she said. "Even though this has taken away the rest of my sophomore year, it's put a lot of things into perspective," she said. 
Now at home, the communications and political science major will join her classmates online to complete the spring semester. 
"I'm a planner and it's strange to think that we were just recently getting ready for our next sorority meeting and making plans for next Saturday to go out to the 99s...you always make plans for the future expecting them to happen, you never really think about the what-ifs," Bailey said. 
But being home has caused a shift in her perspective.
Instead of racing to class or making plans, she's sharing a cup of coffee with her mother in the morning at the kitchen table. Instead of planning her next sorority meeting or going to work, she's outside playing catch with her younger brother in the yard. 
"This has definitely forced us to slow down but it also gives us time to reflect," Bailey said. "I think about all the times my friends and I complained about going to class, or having to walk across campus...we would do all those things in a heartbeat now."
When the time does come to return to BSU, Bailey will not take it for granted and anticipates how special that moment will be. 
"That's what I think about, that moment in September when we are all back on campus in University Park with the sun setting over the train tracks, eating barbecue with friends we haven't seen in months," she said. "I know we will have a better understanding and realize how thankful we are to get to share in that moment."
Until then, she encourages her fellow Bears to rally.
"You're your own biggest support system. Get in your own head space and know that things will be okay," Bailey said. "No one said this was going to be an easy moment in our time at BSU, but this is one of those times to sit back, reflect, and try to make the most of it, and at the same time build up the idea that this is our 'now,' it's not our future."
Do you have a BSU story you'd like to share? Email stories@bridgew.edu