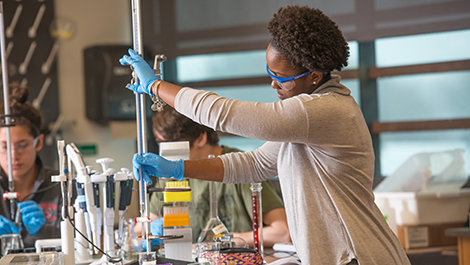 "We pride ourselves on really just providing the best student-centered, career-focused education we can."
Dr. Karim Ismaili, provost and vice president for academic affairs
Bridgewater State University is committed to preparing students for successful careers, and new data shows the university is accomplishing that goal in several growing fields.
Alumni of BSU's graduate accounting and social work and undergraduate chemistry programs, a year after earning their degrees, earn average salaries that are among the highest in the nation ($63,900, $50,700, and $43,300, respectively). That's according to an analysis completed by the website gradreports.com based on U.S. Department of Education data.
At the same time, the study also revealed that BSU has the lowest tuition in each of the three rankings of the top 25 institutions. 
For Dr. Karim Ismaili, provost and vice president for academic affairs, that represents a win-win.
"It shows that we offer terrific educational and career opportunities for our students at a very reasonable tuition rate," he said.
Ismaili cited faculty's dedication and engagement with students as a key reason for Bridgewater's success.
"That's the most important ingredient in all of this," he said.
Faculty in the Department of Chemical Sciences are continuing a culture of innovation with plans to switch from paper to electronic lab notebooks that more closely resemble what students will see in their careers. The department is using an academic innovation grant from BSU to facilitate the switch.
Students in the Department of Accounting and Finance have among the highest pass rates in the state on the certified public accountant exam. And, the School of Social Work offers a flexible program that provides students with the skills social workers need. 
Ismaili is not surprised by the latest honor.
"I know we're doing a very good job – not only with these programs, we're doing it in all of our programs," he said. "We pride ourselves on really just providing the best student-centered, career-focused education we can."
Do you have a BSU story you'd like to share? Email stories@bridgew.edu.