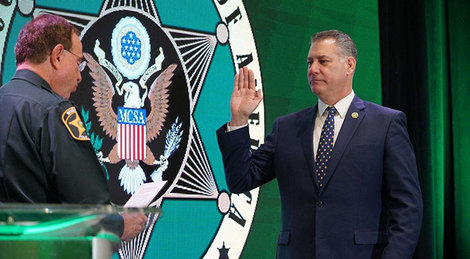 "Bridgewater can lead you anywhere and everywhere."
As the new president of an influential law enforcement association, Peter Koutoujian, '83, is ready to make a difference across the United States. And, he credits his time at Bridgewater State with laying the groundwork for his success.
"Bridgewater can lead you anywhere and everywhere," he said.
Koutoujian, who has been Middlesex County sheriff for nine years, recently became president of the Major County Sheriffs of America, an association whose members serve the most populous counties in the United States.
"It's a testament to the fact that if you work really hard, magical opportunities open up for you," he said.
The association's former president had different political views than Koutoujian, but nevertheless saw his commitment and leadership and helped open a metaphorical door to the presidency for the proud Bear.
About four decades earlier, the opening of a physical door on Bridgewater's campus cemented Koutoujian's undergraduate plans. It happened during a tour of the campus.
"I remember walking through the campus center and students passing by were saying 'Hello' and holding the door open," he said.  "It was the students who drew me to Bridgewater. I felt like I belong."
Dr. Michael Kryzanek, one of his former professors, is not surprised to see Koutoujian excel.
"It was very, very clear in class that there was a spark there, the ability to form an idea, to express himself, to lead others, to have a desire to work hard and have an understanding of politics and government," Kryzanek recalled. "He's a loyal Bear and one I think Bridgewater is very, very proud of."
Koutoujian began as a political science major but changed to psychology. That turned out to be a fortuitous move because his psychology lessons are useful overseeing the Middlesex County Jail and House of Corrections, which is the largest mental health provider in the county.
He has led the Sheriff's Office to national recognition for initiatives such as offering medication assisted treatment for inmates battling drug addiction and opening a specialized housing unit for young adult offenders.
Koutoujian, who earned graduate degrees from New England School of Law and Harvard University's Kennedy School of Government, was previously a prosecutor and state representative. He sponsored the bill that moved BSU from a college to a university.
Bridgewater State allowed him to grow academically and personally while developing lasting friendships, he said. He enjoys connecting with college pals when returning to campus for Homecoming and other events. 
"It's like you never left each other's side," he said. "That's what Bridgewater means to me."
Do you have a BSU story you'd like to share? Email stories@bridgew.edu.