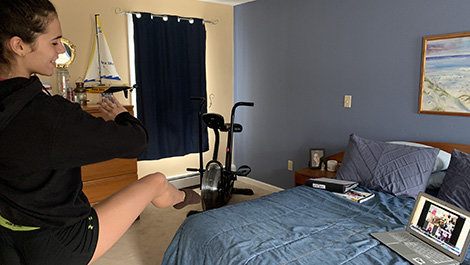 "We need joyful expression to counteract the great despair and fear happening in our world right now." 
When classes moved online due to the COVID-19 outbreak, professors in Bridgewater State University's arts departments adapted by helping students turn their homes into stages and studios.
"It's been reinventing the wheel in many ways because a lot of what we do is production- and presentation-based, and now we don't have an audience," said Emmett Buhmann, an assistant professor whose courses include lighting design for theater and dance majors.
Buhmann's students are using an online light lab to experiment virtually with lights. Meanwhile, faculty across the arts departments are sending supplies to students' homes and replicating face-to-face instruction with video conferencing.  
"A lot of how we learn about dance is through dancing and doing the movement while being with others who are moving as well," Dr. Donna Dragon, an associate professor of dance.
Dragon has been conducting classes through Zoom, often playing music to inspire students to dance together. Students hone their skills working with each other as they would on campus, except through video. Those taking Creative Dance for Children will design a dance class and share it on YouTube. 
Meanwhile, Buhmann's lighting design courses are normally lecture-based for the first half of the semester with these final weeks saved for students to actually work with lights, including staffing the annual Dance Kaleidoscope performance, which was canceled this year.
Despite the end of face-to-face classes, his students will still see their final projects come to life. Buhmann plans to plug their lighting cues into a system on campus and show the results through video.
"It's certainly not what my goals had been for the class, but I think it's going to work out in a way that students get to see what their work ends up looking like," he said.
And, by fostering artistic creativity, these professors are much more than educators.
"We need joyful expression to counteract the great despair and fear happening in our world right now," Dragon said.
Do you have a BSU story you'd like to share? Email stories@bridgew.edu.