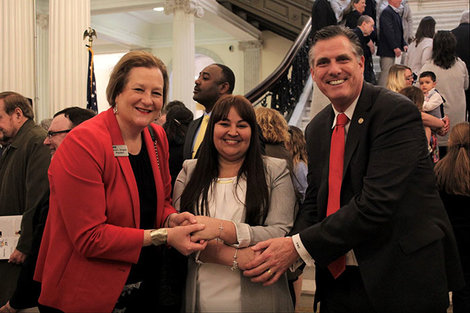 There are days that I want to quit, but I won't. My dreams are coming true.
Story Series
News Feature
Alexander Fagundes, '21, and Jennifer Santana, '22, know the value of higher education. And thanks to Bridgewater State University's partnership with local community colleges, they're able to reach for their dreams.
Earning associate's degrees helped Alexander adjust to college academics, and Santana, as she prefers to be called, get the boost she needed to return to the classroom after time away from school.
Their journeys highlight the importance of CC2BSU, a program offering guaranteed Bridgewater admission for Bristol and Massasoit community college students who earn associate's degrees. Advisers dedicated to students' success are made available through the program. Meanwhile, the CC2BSU participants can also use BSU facilities, such as the library and fitness center, before officially becoming a Bear.
Alexander
At BSU, Alexander can't wait to go to class. That's a far cry from a few years ago, when he didn't even want to be in school.
It took the death of his grandmother to change his attitude. She lived with Alexander and his mom and passed away the summer before his senior year at Brockton High School. He realized he needed to focus on academics to support his family.
"It opened my eyes," he said. "I needed to step up now."
Alexander knew he wanted to attend BSU, but found enrolling at Massasoit Community College eased the transition from high school to Bridgewater. And he came to BSU during his time as a Massasoit student to play pick-up basketball games.
"Being on campus, I felt like I belonged," he said.
Now a marketing major, Alexander is impressed with how his professors care about more than just giving out grades.
"They genuinely want to get to know you, building that relationship and helping you as a student," he said. 
Alexander aspires to work in the sports or automotive industries. No matter where he lands, he knows the CC2BSU program set him up for success and allowed him to help others, just as his grandmother did.
"I know she's looking down at me proud," he said.
Santana
Social workers assist people in all walks of life, but Santana has a specific career goal: reuniting human trafficking victims and their families and ensuring they have the support they need.
That motivates Santana, a domestic abuse survivor from Fall River, to pursue her studies, first at Bristol Community College and now as a social work major and psychology minor at BSU.
"If I can help one person it's going to be worth it," said Santana, who had to put her education on hold while in recovery from addiction. "People didn't give up on me. I don't want to give up."
Her professors at Bristol prepared her for the academic rigor she experiences as a Bridgewater student. She praises staff in BSU's Academic Achievement Center for helping her with writing and other critical skills despite her dyslexia and ADHD.
"They're patient, they're very non-judgmental, and they're accommodating," she said.
Santana hopes to pursue graduate school at BSU after earning her undergraduate degree. She has aspired to come to BSU since realizing social workers she admired as a child were graduates.
"There are days that I want to quit, but I won't," she said. "My dreams are coming true."
Do you have a BSU story you'd like to share? Email stories@bridgew.edu.