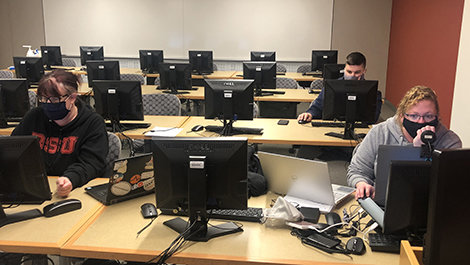 "I found out about the cyber program and didn't hesitate. I thought it would be a perfect follow up to my undergrad."
If your car is ever stolen, you might want Bridgewater State University graduate students on the case.
A team of Bears in the cybercriminology and cybersecurity program recently confronted that scenario during a national competition. The contest challenged them to use computer forensics to analyze electronic devices as part of mock investigations into auto theft and an illegal weapons incident.
"I had never really done anything like that before," said Joshua Carter, who has worked as an emergency dispatcher and is now pursuing a graduate certificate at BSU. "Being on the forensic side is eye opening."
The team, known as the Cyber Bears, placed third out of nine groups of students and professionals at the White Hat Conference, a cybersecurity event hosted by Boston University and supported by the U.S. Department of Justice. 
The Cyber Bears used industry standard software and followed processes that mirror steps investigators take in real situations. The team members even confronted encrypted files.
The strong result qualifies the team for an international contest in June, an excellent achievement for the students and BSU's growing cybersecurity offerings, said Dr. Hannarae Lee, an assistant professor of criminal justice.
"It's really significant," Lee said. "It was moving (seeing them) rigorously competing and collaborating with each other."
The hands-on experience available at the competition and BSU is essential for students to excel, Lee said.
This is as close as students can get to cybersecurity investigation work. And they become proficient in software that is often a prerequisite for jobs, students said.
Drew Panico, '20, who earned an undergraduate degree from BSU in criminal justice, decided to pursue the graduate certificate because he is interested in law enforcement, particularly investigative forensics.
"I found out about the cyber program and didn't hesitate," he said. "I thought it would be a perfect follow up to my undergrad."
The pandemic helped spur Panico and Nancy Entwistle, '02, who has an undergraduate psychology degree from Bridgewater, to further their education.
"I'm hoping this will open a door for me," Entwistle said.
Do you have a BSU story you'd like to share? Email stories@bridgew.edu.