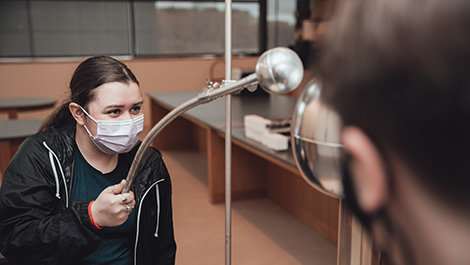 Every day is a learning opportunity. There's always a way to improve and make yourself better.
Cristina Cahill's high school physics teacher once gave her a seemingly odd piece of advice: "You should do my job."
Cristina was initially unconvinced.
"Even though I had loved physics, I had it in my head that I couldn't do that," she said.
But Christina kept Randolph High School teacher Jeffrey Fox's words in mind after becoming a Bridgewater State University student. At BSU, she made connections in the Department of Physics, Photonics and Optical Engineering and discovered that following in Fox's footsteps was, in fact, the right path for her.
Soon, she will be doing the same job as her old teacher.
As Cristina prepares to graduate in December, there is ample demand for her services. Massachusetts and the country face a shortage of physics teachers. More than half of U.S. high school physics classes are taught by a teacher who does not have a degree in physics, according to PhysTEC, a coalition working to improve physics teacher education.
Recognizing the workforce need, BSU is enhancing offerings for aspiring physics teachers by launching an education concentration in the discipline this fall. 
And, with support from a PhysTEC grant, the department increased recruiting at community colleges and BSU, including producing videos that mix problems and demonstrations with fun facts about teaching. They strive to give students opportunities to teach their peers, hopefully sparking an interest in education.
Teachers who major in physics are passionate about the discipline and bring relevant experience and knowledge to their classrooms, said Dr. Jeff Williams, a BSU physics professor.
"It's important because we know students are going to have a stronger understanding with that content knowledge," said Allison Daubert, physics teacher in residence.
Cristina and fellow aspiring physics teacher Kaitlyn Diver, '23, appreciate hands-on experiences such as working with students in introductory BSU physics classes and leading experiments for youngsters who visit during open campus lab nights.
"Every day is a learning opportunity," Kaitlyn said. "There's always a way to improve and make yourself better."
Kaitlyn traces her interest in physics to her time at Rockland High School, when teacher Sam Hoyo recognized her passion.
"It was love at first sight," she said. "It answers all those questions you have as a kid."
Kaitlyn and Cristina, who are studying physics and secondary education, aim to work in low-income high schools, where Daubert said their expertise is especially needed.
"I want to be the teacher who reminds them that it doesn't matter where you come from," Kaitlyn said. "It's being a good person overall." 
Cristina, who grew up hearing the negative stereotypes about those schools, wants to instead be a positive mentor for her future students.
"Being a student there, I knew none of those things are true and most of those things are rooted in racism and classism," she said. "I want to make sure I'm able to give as many students as many opportunities as I can."
Do you have a BSU story you'd like to share? Email stories@bridgew.edu.