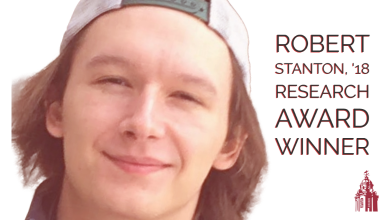 I'm sure undergraduate research opportunities are available at every school, but really seem to be even better at BSU.
Like many college students as he neared the end of his senior year, Robert Stanton, '18, was trying to figure out his next steps. The physics major turned to his adviser, who encouraged him to consider graduate school.
"I really wasn't sure if I wanted to do graduate school, but (Professor Thomas Kling) was really helpful explaining the process to me," Stanton said.
With Kling's help, Stanton pulled together his application and was accepted into Clarkson University's physics graduate program. His decision is paying off.
Thanks to his research, Stanton recently received the 2020 Graduate Students Award from the American Chemical Society's Division of Environmental Chemistry.
The award recognizes graduate students who are working in areas related to environmental chemistry and engineering.
Over the past two years, Stanton has been working with a group at Clarkson in the area of host-guest interactions in the metal organic framework with application heavily toward healthy world solutions. For those who don't study physics, what this means (in the simplest of terms) is that Stanton identifies materials that help to remove toxins from water.
"If we are trying to capture arsenic from water, we can test the strength of the interaction between different materials and look for the best one to synthesize (remove the arsenic/toxin)," he said.
Stanton got bit by the research bug while at Bridgewater State University, where he was involved in undergraduate research. 
Overall he credits the BSU physics department for helping guide him, particularly Edward Devaney.
"Dr. D helped me a lot," Stanton said. "Everyone in the physics department was really helpful at pushing me to get involved in undergrad research."
He's excited to see the BSU physics department roll out its new photonics and optic program as it prepares to offer its first engineering degree. 
"It's awesome," Stanton said. "It's not only a pipeline for students to go into standard jobs, but specific jobs in labs doing photonics research and engineering."
And while Stanton may have been initially unsure whether he was going to continue his education after getting his BSU physics degree, he now plans to continue his academic career with a post-doctorate degree after completing his PhD. His goal is to land a faculty position at a research institution and someday lead his own research team.
Looking back at his time at BSU, Stanton said he's where he is today because he took advantage of the opportunities offered and he encourages current students to do the same, particularly undergraduate research.
"I'm sure undergraduate research opportunities are available at every school, but really seem to be even better at BSU," he said. "Try to figure out what you enjoy doing, figure out what you like doing in your free time, and find the opportunities to study and research those types of things."
Do you have a BSU story you'd like to share? Email stories@bridgew.edu