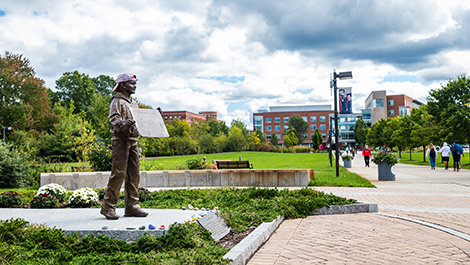 Bill and Denise Richard "are so true to their commitment to their Dorchester community and the BSU community. This is a wonderful connection."
Jill Beckwith, executive director of the Martin Richard Institute for Social Justice
Martin Richard knew the importance of kindness, proclaiming on a now-famous sign, "No more hurting people, peace." Soon, four students who share a connection with Martin, the youngest victim of the 2013 Boston Marathon bombings, will live out his words through their Bridgewater State University education.  
The students awarded the newly established Martin Richard Fellow Scholarship will receive $100,000 to fund four years at BSU. The scholarship was created through the generosity of Martin's parents, Bill and Denise (both members of the class of 1993) and the charity they founded in their son's name, the Martin Richard Charitable Foundation. The funding will cover tuition, fees, on-campus housing, and meal plan.
Recipients will be named Martin Richard fellows.
To qualify, they must be graduates of Neighborhood House Charter School, the Dorchester school Martin and his siblings attended and where Denise worked as a librarian.
"This is such a unique opportunity," said Jill Beckwith, executive director of BSU's Martin Richard Institute for Social Justice. "I think the students from NHCS are going to come in with a particular focus and excitement because of the scholarship and be able to jump right in and be part of an intense and interesting learning experience. They're going to bring energy and enthusiasm that will benefit the program and the university."
One recipient will be named for each of the next four years.
They will join a group of 20 to 25 justice fellows. Through the social justice institute, fellows participate in service activities, collaborate with nonprofits, and develop leadership skills.
The scholarship builds "on the excellent work of the (institute) in engaging and providing opportunities for our students to deepen their knowledge and commitment to civics and social justice," said President Frederick W. Clark Jr., '83.
Clark and Beckwith praised the generosity of Martin's parents.
"They are so true to their commitment to their Dorchester community and the BSU community," Beckwith said. "This is a wonderful connection."
Do you have a BSU story you'd like to share? Email stories@bridgew.edu.