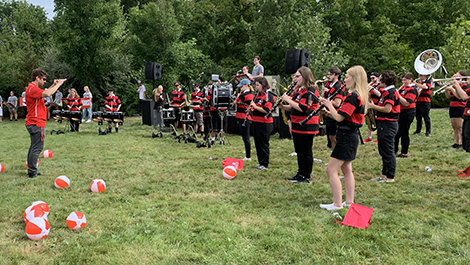 Fight Fight BSU fight on
B-S-U Bears!
Fight Fight BSU Fight On
Let's Go Bears!
- - -
Bears all unite. 
BSU fight with all our might.
Crimson and white we'll stand tall and proud tonight.
Ev'ry day's a great day to be a bear, let's go! 
FIGHT! FIGHT! FIGHT!
- - -
Oh, B-S-U to you we'll be true.
Stand as one and we'll raise our voice.
Roar loud and clear yes, we're BSU!!
B-E-A-R-S. B-E-A-R-S.
B-E-A-R-S. Go Fight Win. Let's go bears!! 
Fight songs evoke school pride and can even spur athletes to victory. But Adalynne Lovins, '24, has an extra reason to be proud of Bridgewater State University's new gameday anthem: She helped write it.
"I hope they're pumped up and excited and ready to be representing the school," said Adalynne, a music education major from Rochester, New Hampshire. "It's pretty cool to have people listening to something you helped make."
Adalynne and recent graduates Chinedu Ibiam, Lauren Schuberth and Michaela Chan developed the lyrics to the tune of "Golden Bear." Bandleader J.J. Richards, who performed in circus bands, composed "Golden Bear" in 1948.
"This march is an excellent example of a typical circus march of the time," said Dr. Spencer Aston, a part-time music professor who adapted the piece to fit the instrumentation of BSU's Bear Band. "The title drew me in and, after playing it at a few games on a trial basis, it stuck."
The new tune should provide apt accompaniment to basketball players' acrobatic slam dunks and football players' tightrope-like sprints down the sideline.
And Richards, who attended Kansas State Teachers College, might appreciate his song finding a home at BSU, which was founded in 1840 as a school to prepare educators.
Crafting the lyrics was a fun and educational experience for Adalynne, who has written poetry and plays percussion in the Bear Band. She and her fellow fledgling songwriters learned to meld different ideas into lyrics while working within the constraints of the original song's melody and rhythm. 
Their bandmates are impressed with the result, which includes multiple verses and the popular saying, "Every day is a great day to be a bear."
"As a senior, it's cool to be the first group of people to premiere it," said Morgan Foster, a music education major from Rockland who plays trumpet.
This fall, the Bear Band will perform the fight song at home football games. The group unveiled it at a semester kick-off event on University Park as orientation leaders led students in singing along.
"I'm so thankful to have this community and I think this will bring us more together," said orientation leader Caroline McNelis, '23. a theater education major from Saugus. "It sounds cliché to say your school is like your family and community, but it couldn't be more true for BSU."
Do you have a BSU story you'd like to share? Email stories@bridgew.edu.