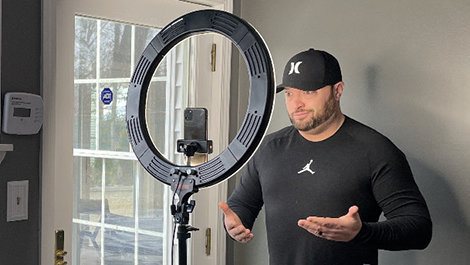 (Being a Bear) helped me learn at a young age you really can do anything. I learned at 21 years old how to be an adult.
As an orientation leader, Keith Gilchrist, '01, fostered an inclusive environment where new Bridgewater State students with disabilities felt at ease. He never imagined how relevant that experience would become in his own life.
Now a stay-at-home dad raising a son with autism, he finds the leadership skills and confidence he gained at Bridgewater to be instrumental.
Being a Bear "helped me learn at a young age you really can do anything," he said. "I learned at 21 years old how to be an adult."
Gilchrist, who studied communication studies and political science, also muses about parenting on his 200,000-follower TikTok channel.
At Bridgewater, he was president of the Student Government Association and student representative to the Board of Trustees. He learned to stand up for his peers and speak forcefully for initiatives to better serve students.
He uses the same skills to advocate for his 9-year-old son, Kyle, help other families raising autistic children, and launch a nonprofit organization to increase awareness about autism.
"My new fulltime job was making sure that he could get everything he needed," Gilchrist said of life after Kyle was born. "It's easily the most fulfilling thing I've ever done."
The family of four (including mom Jennifer and 10-year-old daughter Kelsey) moved to the Albany, New York, area so Kyle could access the educational services he needed to thrive. And thrive he has, learning to speak and even understand sarcasm.
That last skill is important because it is a hallmark of his dad's TikTok channel, @therealkdg.
"I'm the relatable, sarcastic husband and father," Gilchrist said. "It's a little self-deprecating dynamic, just being the dopey husband."
So, how does a dad become a TikToker? Kelsey, who shares her father's outgoing personality, was depressed having to physical distance during the COVID-19 pandemic. Her father posted TikTok videos to lift her spirits.
The comedic takes quickly garnered hundreds of thousands of views as people sought a break from depressing COVID-19 news.
But, for Gilchrist, it's an activity rooted in doing what he does best: supporting his children just as he did for Bridgewater students.
"Bridgewater gave me those opportunities," he said. "Those are life lessons that will never leave me."
Do you have a BSU story you'd like to share? Email stories@bridgew.edu.