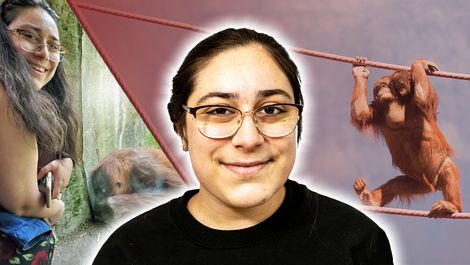 I had amazing professors help me get where I am.
Mia Sarkisian, '19, first developed an interest in orangutans when she read a story about them as a child. But she didn't find a way to turn her passion into an integral part of her professional life until she came to Bridgewater State University.
At BSU, Sarkisian met anthropology Professor Ellen Ingmanson, a biological anthropologist whose research focuses on primates, including orangutans and other types of apes.
"I didn't know anthropology was even a path for primate research," said Sarkisian, who majored in anthropology and biology. "She took me under her wing and showed me how to do research and collect data."
Sarkisian is now a graduate student in the primate behavior and ecology program at Central Washington University. She aspires to earn a doctoral degree and potentially become a professor, a career path that would allow her to teach while continuing the type of research she first explored as an honors student at BSU.
"I would love to be a professor," Sarkisian said. "I had amazing professors help me get where I am." 
With support from Bridgewater's Adrian Tinsley Program, Sarkisian traveled to the Smithsonian Zoo in Washington, D.C., to study how a baby orangutan behaves and how its mother treats the baby. That work formed the basis for her honors thesis.
Behavioral research is important because orangutans are endangered due to deforestation, poaching and other factors. Research helps humans support orphaned orangutans with the goal of preparing them to live in the wild, Sarkisian said.
"We learn from research what they need to know to survive," she said.
Sarkisian also completed an internship at the Smithsonian Zoo exploring how orangutans and gorillas communicate.
On the BSU campus, she gained laboratory skills studying salamanders with Dr. Caitlin Fisher-Reid. Meanwhile, Dr. Ingmanson offered projects and directed studies designed to meet Sarkisian's career aspirations.
Sarkisian's persistence and dedication are admirable and useful in a field where the research process is slow and requires significant time spent observing primates, Ingmanson said.
"She asked questions and wanted to understand it and came back to find out more," Ingmanson recalled. "It's that curiosity, that need to know. It really is a need."
Sarkisian's biology and anthropology foundation built as a Bear was instrumental in preparing her for graduate school and helping her understand the biological and human factors affecting primates.
"Bridgewater was super important to me," she said. "They gave me the educational and financial resources to do this."
Do you have a BSU story you'd like to share? Email stories@bridgew.edu.