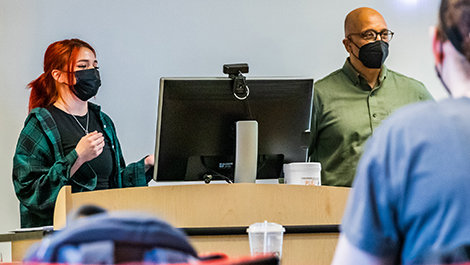 Having this sense of social justice is what I want in life. Equity and justice are things I have always loved.
Carrie Provost, '23, is committed to ending inequalities for Indigenous youth and first-generation college students who will follow in her footsteps. And participating in a national fellowship will help the Bridgewater State University student grow as a leader ready to tackle these challenges. 
"Having this sense of social justice is what I want in life," said Carrie, who is majoring in criminal justice and English while minoring in Native American and Indigenous studies. "Equity and justice are things I have always loved."
Carrie, who is from Pine Ridge Indian Reservation in South Dakota, will represent BSU as a Newman Civic fellow for the 2022-2023 academic year. The initiative, run by the nonprofit Campus Compact, connects students across the country and trains them to be changemakers on campus and in the community.
"I love making connections with people," Carrie said. "I think the fellowship will provide that. I feel like it's going to be a really rich and interesting experience for me."
Carrie is a fellow at BSU's Martin Richard Institute for Social Justice, where she plans and leads programming. She also introduces her peers to Indigenous traditions by helping run the Native American Cultural Association.
"She's a really great fit (for the fellowship) because of her experience as an Indigenous woman and her passion to be inclusive and educate others about the Native communities," said Laura Mulvey, G'18, assistant director at the Martin Richard Institute. "She is really inspiring."
Carrie is a beneficiary of a decade-long partnership between BSU and her high school alma mater, Red Cloud Indian School in Pine Ridge. BSU students visit Pine Ridge, and some graduates volunteer to teach at Red Cloud. Meanwhile, Bridgewater professors assist with curriculum development and Red Cloud students visit BSU in the summertime. 
The partnership also offers college scholarships for Carrie and some of her peers from Pine Ridge, which is one of the most impoverished locations in the U.S. with an unemployment rate of 80 percent.
Carrie, who is one of four students from Pine Ridge currently attending Bridgewater, appreciates the mentorship she receives from faculty and staff such as Mulvey and Dr. Joyce Rain Anderson. 
"Carrie always had this interest in social justice," said Anderson, an English professor and faculty associate for the Pine Ridge partnership. "She's a joy to be around. She will speak the truth. I think that's really key. She's also very aware of how to listen to other people."
Carrie praises BSU for deepening her commitment to social justice and helping her advance causes close to her heart.
"I feel like it's impacted me in multiple ways," Carrie said of coming to BSU. "I understand if I had stayed on the reservation, I probably wouldn't be where I am today." 
Do you have a BSU story you'd like to share? Email stories@bridgew.edu.