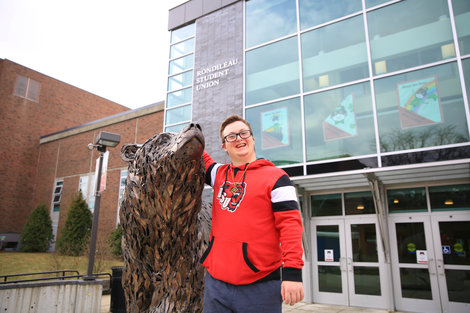 I want to inspire more people, thousands of people.
Even when he's wearing a mask, it's easy to tell Cullen "CJ" Buckley is smiling when he talks: his eyes light up and his infectious enthusiasm gives him away.  
He's also very proud.  
"I want to inspire more people, thousands of people," said CJ, who has Down syndrome.
CJ is enrolled in Bridgewater State University's EXCEL program, a fully inclusive postsecondary program for individuals with intellectual and/or developmental disabilities.  
Through EXCEL, students have the same experience as their college-aged peers in academics, socialization, career development, and independent living. Students are also paired with a peer mentor for additional support.  
"We are a fully inclusive program, that's what sets us apart. Our students are part of the fabric of the community, fully included in classes alongside all Bridgewater students," said Christina Raeke, EXCEL program director.  
When Raeke traveled to North Attleboro two years ago to interview CJ as a potential candidate for the program, she knew immediately after talking with and observing him, he'd be a good fit.   
"I was having a particularly stressful morning and I have to tell you, he turned my entire day around. Watching him in his art class, he was so passionate and engaged in his learning. I knew we were going to take him," she said.  
CJ has brought that energy to BSU, where he's taken a variety of classes, including yoga and theater. He particularly likes yoga for a very specific reason.  
"I'm very double jointed," he said.  
His theater classes have also helped define a possible career path.  
"I love music, I love to act. I want to perform," CJ said.  
Hip hop is his favorite genre, and he's not afraid to break out and rap for an audience.  
He prefers to perform songs he's written himself. Some are about a variety of topics, including living with Down syndrome, love, and being there for others, especially those with disabilities.  
"For some people it can be hard to understand Down syndrome. I like to try and help them. The fact I have Down syndrome, it helps me teach others," he said.  
When he's not taking class or rapping, CJ interns in the BSU mailroom where his responsibilities include receiving, scanning, and labeling packages. His favorite part of the job though, is interacting with people.  
"I get to deal with a lot of people. I get to greet them. It fits right in with my personality," he said.  
CJ currently commutes to BSU but plans to live on campus next semester.  
"I want to see new people, have more independence, and gain that experience," he said.  
Raeke has no doubt he will adjust just fine and looks forward to seeing more of him on campus.
"He has a beautiful spirit, he's a wonderful young man to be around. CJ represents the type of student we want to see at our college," she said.  
Do you have a BSU story you'd like to share? Email stories@bridgew.edu