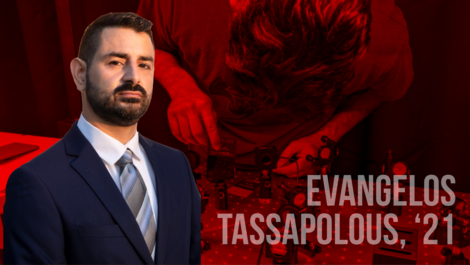 Bridgewater helped me rise to see where I could go.
Evangelos Tassapolous, '21
When Evangelos Tassapolous, '21, transferred to Bridgewater State University, he wasn't sure what to expect. However, one thing he did know was that all his community college credits would carry over.
On top of this, coming to BSU to study physics ended up being a transformative experience.
"I looked at it more as an investment, not just getting a degree," Tassapolous said. "I asked what would most likely get me a job after graduation."
His strategy paid off. After graduating last year, he was hired as a field engineer at Kratos Analytical Ltd., a leader in X-ray photoelectron spectroscopy.
Now living in New Jersey, Tassapolous is fully immersed in his new position and said the hands-on learning he received at Bridgewater helped him prepare for the job.
"The way class was taught, you were expected to figure things out on your own," he said. "That helps so much for your career. In the (real world) you have to solve a problem. You have to figure it out on your own."
As an undergraduate, Tassapolous was also part of BSU's PHOteam, and he helped the school prepare for the new, state-of-the-art photonics lab, located in the Dana Mohler-Faria Science and Mathematics Center.
"I helped test all the equipment to make sure there were accurate readings to ensure the equipment was up to snuff for programs, like optical engineering," he said.
In 2020, Bridgewater State rolled out its new photonics and optics offerings, introducing the university's first engineering degree program.
Tassapolous admits if the engineering program was offered when he was enrolled, he would have switched majors.
"Within the next 10-20 years our economy is going to shift to photonics engineering," he said. "It's crazy important to not only be ahead of the curve but also to start training for new jobs that will be generated."
Having qualified faculty like Dr. Samuel Serna Otalvaro and Dr. Elif Demirbas teaching courses in optical engineering is also beneficial.
"When I was working in the lab, Dr. Serna was there to help me do everything but also able to delegate things," he said. "There was a lot of learning on my own, rather than having someone hold my hand. He also helped me prepare when I was going through the (job) interview process."
To find jobs to apply and interview for, Tassapolous also used Handshake, an online career-development platform offered for free to BSU students through Career Services.
"Career Services and Handshake helped me focus on jobs I was qualified for. I found a list of jobs and applied everywhere around the country, actually around the world," he said.
Today he's happy to be working in a career that challenges him and is thankful for the opportunities BSU provided.
"Bridgewater helped me rise to see where I could go," he said, adding prospective students considering BSU should give the school a serious look.
"Utilize the optical engineering program now that it's an option at BSU," he said. "Whether you want to go the academic or physics route, or optical engineering…be persistent and have an outline for what you want. Either way you'll be all right."
 Do you have a BSU story you'd like to share? Email stories@bridgew.edu