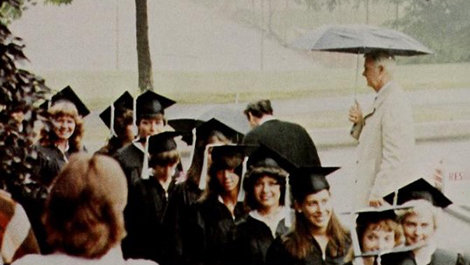 To have the ability to go back 40 years later and reminisce, to celebrate, it feels great.
When torrential rain upended the Class of 1982's commencement, graduates never crossed the stage for their moment in the spotlight – until now.
During Homecoming weekend, Bridgewater State University will welcome the class back to campus for a special diploma ceremony.
"To have the ability to go back 40 years later and reminisce, to celebrate, it feels great," said Tim Millerick, '82, G'86, who was a class marshal.
Millerick recalled the deluge that washed away bouquets of flowers and soaked graduates and guests as they walked to a large tent on the Boyden Quadrangle. The rain was so intense that a huge bulge formed in the tent, prompting an engineer in the crowd to pass a note to President Adrian Rondileau saying that it was in danger of collapsing.
As Rondileau called for an evacuation, "people just started bolting," recalled Millerick, who earned a bachelor's in elementary education and later a master's in counseling. "It was pouring. It was crazy."
Some members of the class hastily gathered in the campus center auditorium, but the ceremony never formally resumed. As part of its 40th reunion, the Class of 1982 will finally cross the stage on Sept. 30 in Horace Mann Auditorium.
"Bridgewater State University is acknowledging and celebrating these alumni in a manner commensurate with their significant accomplishment," said Ellen Cuttle Oliver, '82, G'89, BSU's chief development officer. "As a member of the great Class of 1982, I'm grateful to President Fred Clark for providing us with this amazing opportunity."
This marks the third time in recent years that Bridgewater will honor a class whose graduation was disrupted. The Class of 1968, whose commencement was canceled in the immediate aftermath of the assassination of Robert F. Kennedy, returned in 2018 for a ceremony in conjunction with the group's 50th reunion. In 2021, BSU organized a commencement ceremony at Gillette Stadium for the Class of 2020, whose graduation was postponed due to the COVID-19 pandemic.
The 1982 ceremony is one of a plethora of Homecoming events on Sep. 30 and Oct. 1. Campus radio station WBIM, which is celebrating its 50th anniversary, will feature alumni DJs throughout the weekend. The Martin Richard Institute for Social Justice will dedicate its new offices at 161 Summer St. And traditions such as Bristaco's Block Party and the big football game will cap off a festive weekend.
For Millerick, a Bridgewater education sparked a roughly four-decade career in higher education. He first worked at his alma mater but spent most of his career as the athletic director and vice president for student affairs at Austin College in Sherman, Texas.
"Throughout my career, I've done a lot of commencements," he said. "Nineteen-eighty-two was never something that left my mind. I always took a moment to think of the craziness."
Millerick, a member of the BSU Athletic Hall of Fame for his stellar career as a football defensive back, appreciates the university's efforts to give his class its long-deserved graduation moment.
"It's going to be fun and nostalgic," he said.
Do you have a BSU story you'd like to share? Email stories@bridgew.edu.