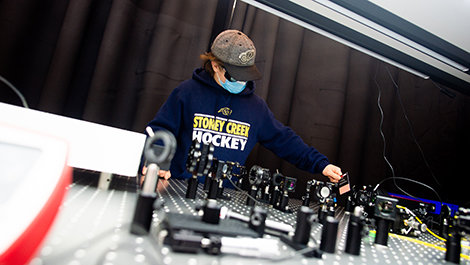 Coming to BSU was, "a really good opportunity to get into a developing field for engineering. It's been a great experience."
Despite being new to the BSU campus, Peyton Brown, '24, is already collaborating with students and researchers from Massachusetts Institute of Technology to study – and teach – the cutting-edge field of photonics.
"I did not think I'd be doing that my first year at Bridgewater," said Peyton, a transfer student from Rochester, Michigan. "I didn't think I'd be getting involved in research and labs so quickly."
Peyton and Samuel Bechtold, '23, who are enrolled in Bridgewater State University's new photonics and optical engineering major, helped lead the first collaborative photonics bootcamp hosted at MIT and BSU. The three-day event brought together faculty and students from several universities and industry representatives looking to network and expand their knowledge of photonics, reputed to be the next wave in technology.
Samuel, who is from Barnstable and transferred to BSU from Cape Cod Community College because of the photonics program, appreciated the exposure to advanced applications at the bootcamp.
Coming to BSU was, "a really good opportunity to get into a developing field for engineering," he said. "It's been a great experience."
Photonics uses particles of light called photons to improve technology. The ensuing devices offer advantages over conventional electronics including increased bandwidth, more energy efficiency and less excess heat. Applications span a host of industries from telecommunications to automotive to gaming.
At the bootcamp, participants learned to assemble and test chips, worked with lasers, and attended lectures by leaders in the field. They studied how photonics and electronics can work together.
"It's really been developed jointly," said Dr. Anu Agarwal, principal research scientist in MIT's Materials Research Laboratory. "We had students from MIT and BSU working closely together to build the curriculum for the bootcamp and decide what experiments to do and what tools were used."
The bootcamp showcased the state-of-the art technology and lasers that Bridgewater students can access on campus. Dr. Yasaman Sargol, a research and development engineer at Wilmington-based Seurat Technologies, was impressed with what she saw and learned.
"I think it's good to learn from experts in the field and see all the capabilities they have," said Sargol, whose company is developing 3D printers that use lasers. "Our company is a startup company, so we're still learning."
Bringing industry representatives to campus helps them see what BSU students learn, said Dr. Samuel Serna, an assistant professor of physics, photonics and optical engineering.
"They know they can rely on our students," Serna said.
Do you have a BSU story you'd like to share? Email stories@bridgew.edu.