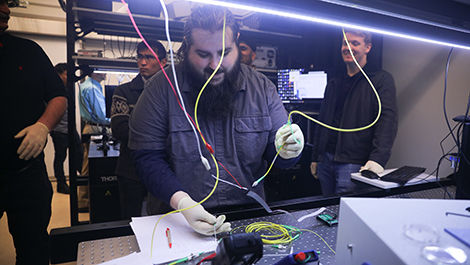 I've always thought about sustainability. It's nice to have a professional outlet here where I can also focus on that.
When he was younger, Samuel Bechtold, '24, would often walk Cape Cod beaches picking up trash. Sometimes he'd find cell phone chargers and electronic vaping devices – items that represent the tip of the iceberg in the growing environmental problem of electronic waste.
Now majoring in photonics and optical engineering at Bridgewater State University, Bechtold is a research assistant on a team from Massachusetts Institute of Technology and BSU seeking solutions.
"I've always thought about sustainability," said Bechtold, a former chairperson of the Sierra Club's Cape Cod chapter. "It's nice to have a professional outlet here where I can also focus on that."
The team, which is led by MIT and includes BSU Assistant Professor Samuel Serna as a co-principal investigator, is researching sustainable microchip manufacturing with funding from the National Science Foundation's Convergence Accelerator program. The initiative puts interdisciplinary teams from across the country into a friendly competition to develop solutions to pressing societal problems.
As consumers seek the latest features in their electronic devices, they often throw away old models, contributing to the approximately 50 million (and growing) tons of e-waste generated in the world every year. That annual figure, according to a 2019 United Nations report, is greater than the combined weight of every commercial airplane ever built - and only 20 percent of the e-waste is recycled.
The MIT-BSU team is working with industry and government stakeholders to find ways to increase energy efficiency and reduce e-waste. Photonics, which uses particles of light called photons to improve technology, can help lower a device's energy use. The group also aims to explore methods for swapping out chips instead of throwing away an entire phone or computer.
"We want to train engineers to design for upgrades having in mind that it's not a one-use device," Dr. Serna said.
Education is an important component of the project. Serna introduces the issue to high school students who visit BSU. And he will teach a first-year seminar about sustainable microchip manufacturing in the fall. He hopes the course underscores the importance of incorporating sustainability in product design and manufacturing.
"We want to start that at the very beginning so as sophomores, juniors and seniors they have that already engrained," Serna said.
In addition to completing administrative functions for the project, Bechtold helps MIT students use photonics lab equipment at BSU to test their devices. He's also gaining a new perspective on engineering that incorporates his longstanding passion for environmentalism.
"It helps me to have a more holistic approach when I'm designing stuff," he said. "I'll look at the materials used in my design and see if I can find alternatives that are more sustainable and have more equitable manufacturing processes."
Do you have a BSU story you'd like to share? Email stories@bridgew.edu.