Helping Students in Need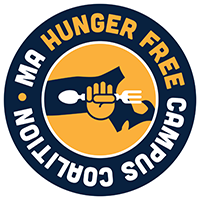 On average, one of three college students don't know where their next meal is coming from... But only 20% of those students fully use benefits available to help them.*
At Bridgewater State University, we understand that hunger has a significant impact on a student's ability to learn. As a part of the Massachusetts Hunger-Free Campus Coalition BSU offers a variety of resources to assist students who may be suffering from food insecurity. These resources include: on-campus SNAP benefits, the BSU Food Pantry, a Community Garden, and BSU's "Swipe it Forward" meal swipe donation program.
Can't Find What You Need?
BSU is here to help. If you're not quite sure what you need or require additional support, please contact the Office of Student Outreach and Special Programs at studentlife@bridgew.edu and we'll be happy to assist.
*According to HOPE Center
BSU Food Pantry
The BSU Food Pantry aims to reduce short term food insecurity for students experiencing the stress of financial constraints. Located on the bottom floor of the Rondileau Campus Center in Room 012 (RCC012), the food bank is available to all students as self-service with no sign-up required. The Food Bank offers non-perishable food, grab and go options, personal care items, and fresh fruit and vegetables (when available). For more information, including hours of operation, please visit the BSU Food Pantry website (login required).
The BSU Food pantry is supported by a variety of groups including Alumni and Development, Bridgewater Dining, BSU's Sustainability Program, and Bears Who Care, a student-run club on campus, who assists their peers with food insecurities through fundraising efforts and volunteerism among other activities.
Swipe it Forward
"Swipe it Forward" is BSU's meal swipe donation program, which allows students to donate meal swipes to others in need. If you are a student in need of a meal, you can sign up to request meal swipes that have been donated by your fellow bears. For more information, including sign up information, please visit the BSU Food Pantry's Swipe it Forward page.
SNAP Benefits on Campus
Are you a college student struggling with food insecurity? If so, you and your family may be eligible to receive grocery food cards via the Massachusetts Supplemental Nutrition Assistance Program (SNAP), formerly called food stamps.
You must be a Massachusetts resident, a U.S. citizen or legal resident to apply. To see if you are eligible for assistance, take a quick assessment: Am I Eligible for SNAP? For more information, visit the SNAP website.
The BSU Permaculture Garden
The garden is located next to the East Campus Commons and University Park and provides free fresh produce to anyone in the BSU community during the growing season (roughly June-October). Come to the garden and pick what you need. For more information please visit the BSU Permaculture Garden website.