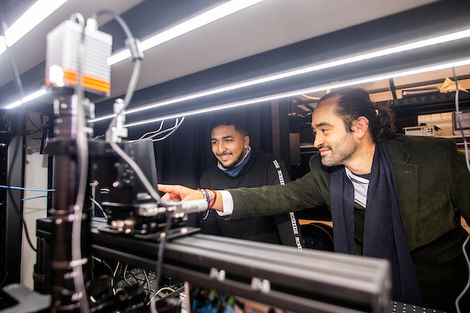 "The idea is to create a sense of community. That's been shown to help with retention."
Interim Dean of the Bartlett College of Science and Mathematics
Story Series
Action: Racial Justice and Equity
Studies show that only 9 percent of STEM workers in the United States are Black, and only 7 percent Hispanic. This is reflected in the academy nationwide, where these workers make up 10 percent of faculty.
The National Science Foundation, seeking to address this imbalance, provides grants to promote and support the development of a model for advancing early-career faculty of color to full-time positions in STEM. BSU is sharing such a grant with Framingham and Worcester state universities.
The first amount to reach BSU is $65,000. The initiative kicked off in July, according to Dr. Martina Arndt, interim dean of the Bartlett College of Science and Mathematics.
"The goal is to recruit and retain a specific subset of minoritized people in STEM," she said. "The numbers are unbelievably low."
The initiative dovetails with a key recommendation from the workforce subcommittee of the Special Presidential Task Force on Racial Justice to increase faculty of color by 20 percent. (Meanwhile, Human Resources and Talent Management at BSU is working on several related recommendations meant to diversify the institution's workforce. Read more in "Hire Education".)
The planned changes, funded by the grant, begin with the recruiting process itself. How a position is defined can influence who applies and who does not, Dr. Arndt said.
"One of the big things is during recruitment to really target these populations, and trying to include language in the job descriptions that lets candidates know that if they do meet these criteria that they will be eligible," she said.
Once faculty of color are hired, BSU and its two partner institutions will hold workshops, offer mentoring, professional development and assistance with the pursuit of advancement and/or tenure. It's all part of a multi-pronged approach, Dr. Arndt said.
"The goal is to provide all the components that you need to progress at your institution," she said.
The definition of STEM used in the context of the grant is highly inclusive, which means faculty hired in many of the humanities subjects can participate. Likewise, many administrative divisions from across the institution have a role, including Human Resources and Talent Management, the Office of Teaching and Learning, Academic Affairs, and the Division of Student Success and Diversity.
"It's a really nice mix of people working together on this, and I think it shows great cross-divisional collaboration," Dr. Arndt said.
This academic year, the focus has been on recruitment practices, with five faculty openings to be filled. Once enough new faculty members of color are onboard, that cohort will benefit from the subsequent rollout of the program's offerings.
"The idea is to create a sense of community," Dr. Arndt said. "That's been shown to help with retention."