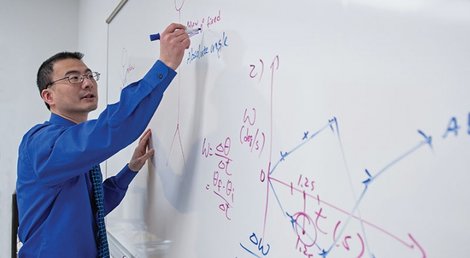 Our students value the importance of health; whether they become physical education teachers, physical activity leaders, athletic trainers, personal coaches or strength and conditioning coaches, they want to improve the health, fitness, performance and quality of life of others.
Story Series
Bridgewater Magazine
Opportunities at BSU have expanded for students interested in the ever-growing fields of health and health care.
The Department of Movement Arts, Health Promotion and Leisure Studies (MAHPLS) offers several degree programs to prepare students to further their postbaccalaureate-level education in health professions, such as pre-athletic training, pre-physical therapy and pre-occupational therapy. Graduate students also have a wider selection of programs.
The increased offerings are part of the reason the name of the College of Education and Allied Studies has been changed to the College of Education and Health Sciences.
Dr. Tong-Ching "Tom" Wu, associate professor and chairperson of MAHPLS, said that despite the changes, the mission remains the same – providing much-needed options for today's students and critical services to the region. "The goal is to prepare and educate our students in athletic training, health, human performance, physical education, nutrition, recreation and coaching," he said.
The changes should also benefit residents of Southeastern Massachusetts, Dr. Wu said. "This is all about educating and improving the quality of life of others."
Graduates of these health programs might further their education in professional or graduate schools, and pursue careers as public health professionals, nutritionists, epidemiologists, scientists/researchers or first responders, as well as dozens more options.
Changes have also been made to BSU's popular athletic training program. The master's degree in the discipline is now the entry-level degree in the field. This is partly due to a decision by the Commission on Accreditation of Athletic Training Education.
The added health science program disciplines are in step with the growing health field, which is dealing with an aging Baby Boomer population."I think there will be an increase in demand for health professions," Dr. Wu said.
Undergraduate Health Programs
Bachelor of Science in Health Science
Concentrations: 


Pre-Athletic Training
Pre-Physical Therapy
Pre-Occupational Therapy

Bachelor of Science in Health Studies
Bachelor of Science in Public Health
Minors

Health Promotion
Health Resources Management
Nutrition
Graduate/Postbaccalaureate Health Programs
Master of Science in Athletic Training
Master of Education in Health Promotion
Postbaccalaureate Licensure in Health, Health/Family and Consumer Sciences PreK-12 (Initial Licensure)
Learn more at the Heath Sciences Website