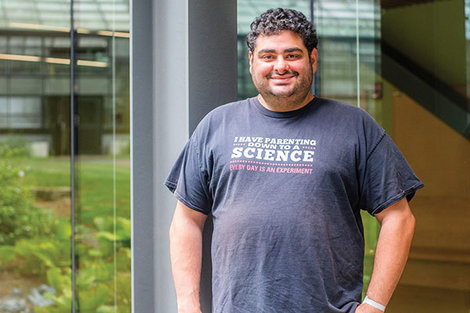 Bridgewater was one of my top choices to work at because of my own experiences of being mentored in a very hands-on and small environment, and now I'm just paying it forward.
Story Series
Bridgewater Magazine
Across campus, students from all disciplines are working on research projects in close collaboration with faculty mentors. That's not unusual.
Less frequent is when a paper co-authored by students and a faculty mentor gets published in a peer-reviewed journal. Dr. Joseph Seggio has had that happen more than 20 times during his dozen years as a biology professor at BSU. However, when a recent paper was not only published but also selected as an editor's pick, it was, he said, a rare accomplishment.
The article, "Male C57BL6/N and C57BL6/J Mice Respond Differently to Constant Light and Running-Wheel Access," was co-authored by Dr. Seggio, along with Marissa Maroni, '19; Kimberly Capri, '19; Holly DeCourcey, '20; Hannah Deane, '21; Holly A. Concepcion, '21; and Dr. Ryan W. Logan, associate professor, Department of Pharmacology and Experimental Therapeutics, Boston University School of Medicine. It was published in Frontiers in Behavioral Neuroscience and selected as one of the top articles submitted to the journal in recent years.
Throughout his time at BSU, Dr. Seggio has prided himself on employing an undergraduate research model that has helped students earn acceptance to master's and doctoral programs at top research institutions, including the Scripps Research Institute, the University of North Carolina and the University of Pennsylvania.
"One of the things I'm passionate about is working with students in small groups," Dr. Seggio said. "They go off and do bigger and better things on their own, and they point back to our work here at Bridgewater as a formative experience."
The emphasis on working closely with undergraduates on original research is something Dr. Seggio learned about at Skidmore College, where he received his bachelor's degree. Earning his doctoral degree in biology and neuroscience at the University of Maine in Orono, he also got a chance to teach. These experiences sealed his fate; he graduated with a desire to work in both the classroom and the lab.
"It's the best of both worlds where I get to be a scientist and a teacher at the same time," he said.
Dr. Seggio's areas of focus are Type 2 diabetes, circadian rhythms neuroscience and alcohol biology. Often, these specialties overlap, creating myriad opportunities for him and his students to engage in original research.
The published research paper by Dr. Seggio and the student-researchers looked at sleep disruptions in mice and the effects they have on the mice's overall health and behavior. The key finding was that the same breed of mice commonly used in global biomedical research can be slightly different when bred in different labs. This small difference can affect the resulting data.
This kind of research not only excites students, but also pays dividends once they graduate.
"I was able to get so much out of my undergraduate research experience," said Ms. Capri, who currently works as a graduate program administrator in the mathematics and statistics department at Boston University, while also pursuing a master's degree in higher education there. "I was able to grow as a researcher and a professional. I gained a lot of confidence and experience that helped me transition from my undergraduate career to a working professional."
Dr. Seggio works with about a half dozen student-researchers at a time. With these numbers, he can closely deliver to them the kinds of opportunities he himself had as a student.
"Bridgewater was one of my top choices to work at because of my own experiences of being mentored in a very hands-on and small environment," he said. "And now I'm just paying it forward."
Research in any discipline helps students sharpen critical-thinking skills, as they learn firsthand about the scientific method and how to think in the abstract.
"There is a universal skill set that only doing research can provide, because you are addressing questions that don't have an answer yet," Dr. Seggio said. Sometimes, the questions themselves haven't even been thought of yet, he added.
As of mid-September, nearly 5,200 people had accessed the online version of the paper published in Frontiers in Behavioral Neuroscience. This represents a wide readership, Dr. Seggio said. The credit for all this attention, he reminds his students, is shared. "I tell them it's our success, collectively," he said.
For the student-researchers, just as important as bylines is the opportunity to have actually done the work and gain the kind of high-level experience usually reserved for graduate and doctoral students.
"It's the idea that they learn how to go through the process," Dr. Seggio said. "It's not something you usually get in an undergraduate education."
Read the article featured in Frontiers in Behavioral Neuroscience.