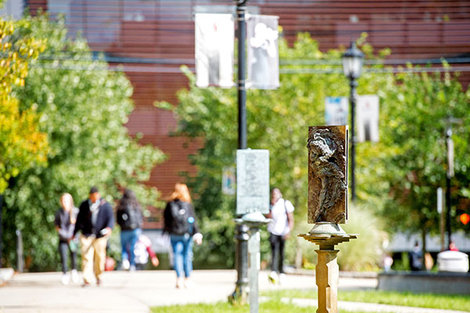 Story Series
Bridgewater Magazine
The Greg and Fay Wyatt Sculpture Garden, located on the eastern side of Maxwell Library, is nearly complete.
A dozen new sculptures by Mr. Wyatt, an internationally renowned artist, have been added, courtesy of the Newington-Cropsey Foundation. They surround a large sculpture of ballet legend and actor Mikhail Baryshnikov (far right) created by Mr. Wyatt and installed in 2017. It was also donated to BSU by the foundation. Plans call for the installation of five more pieces by Mr. Wyatt in the coming years to complete the project.
Three species of trees, River Birch, Moonglow Magnolia and American Yellowwood, have been planted in the garden, each selected for its texture and, in some cases, close affiliation to what is depicted in Mr. Wyatt's sculptures. With its mix of art, literature and nature, the garden provides a thoughtful oasis at the heart of campus.