Student's project shines a light on the service of female veterans
Story Series
Bridgewater Magazine
It's something that often happens to Micaila "Mickey" Britto-Patten. She's standing with other United States veterans, and she watches as people come up and thank the men in the group for their service, moving right past her as if she were invisible.
The Taunton native retired as a corporal from the Marine Corps in 1994 due to service injuries after serving her country for more than seven years stateside and in Japan. After her tour of duty, she said she felt like she came home and simply "melted" back into society.
Melted, as in disappeared.
"This has been something that's stuck in my head for a long time," the art major said.
She adds that female service members have done their part in every war from the American Revolution on, but have not always been given the credit and respect for their sacrifices.
Her summer project, carried out as part of the Adrian Tinsley Program (ATP) for Undergraduate Research, was a comprehensive photo essay featuring female veterans from the Vietnam era through today. The images, some of which are shown on the next two pages, were printed as 11 x 14 portraits and displayed at the ATP symposium at summer's end. 
Amy Lovera, assistant professor in the Department of Art and Art History, is her research mentor.
Micaila works full time as director of Veterans Services of Fall River and studies at BSU part time. She plans to graduate in a few years with a concentration in photography. In June, she was the keynote speaker at the annual meeting of the Massachusetts Women Veterans Network. She hopes her story, continued advocacy and photos (through local exhibitions and other means) will help female veterans get the attention and respect they deserve.
"Women are now the fastest growing demographic in the military and as veterans," she said. "It's a matter of fact that women can serve, are serving and will continue to serve."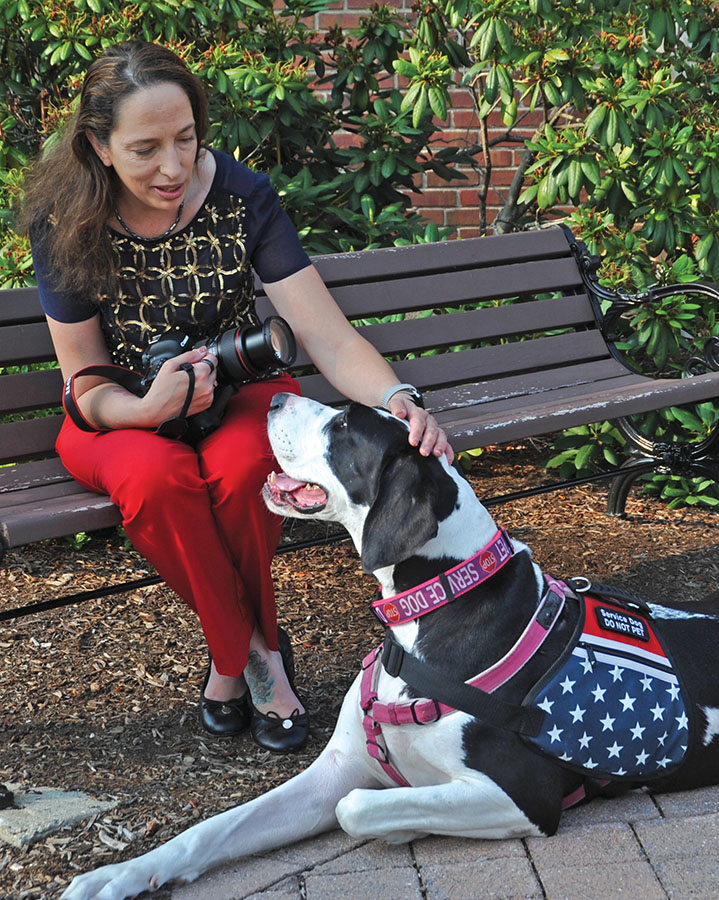 "I am grateful I have been able to work with veterans on a daily basis, letting them know what their benefits are and how to access programs which will enhance their lives.

"The Bridgewater State University Adrian Tinsley Program for Undergraduate Research grant has allowed me to use not only my voice, but the voices of all women veterans. Allowing me to create this work of photography has been so fulfilling. And for this I am grateful beyond words. Thank you BSU!"
Micaila Britto-Patten, left, with her service dog, Rabbit