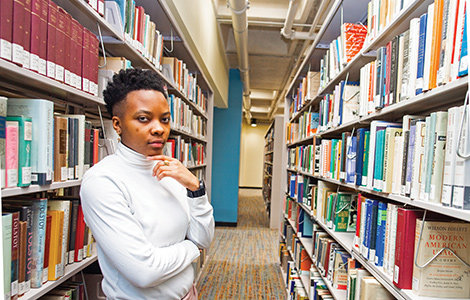 Story Series
Bridgewater Magazine
Hometown: Randolph
Majors: English, Graphic Design
Project: Beyond Validation: The Vernacular Literary Tradition and African-American Vernacular English
Mentor: Dr. Emily Field (English)
African-American Vernacular English (AAVE) is a dialect spoken by the African-American community. The research surrounding AAVE has validated it as indeed a dialect and not merely a lesser version of standard English. What's not yet clear is why AAVE developed into what it is today and how it is valuable in its own right. This is the question I try to answer through my research of AAVE in action and as recorded in the past.
I was drawn to this topic in my History of English class, where I learned the many different ways English became the language it is today. As a speaker of both standard English and AAVE, I wondered what interesting ways AAVE came into being. The answer, I found, was lacking. So, I endeavored to begin an exploration in hopes of answering this question.
This research is important because understanding why AAVE developed is key to understanding it as integral to American English, rather than derivative of the language. African-American peoples have spent their whole existence trying to validate themselves against "the standard." It is time that we begin to explore our intrinsic value, beyond mere validation.