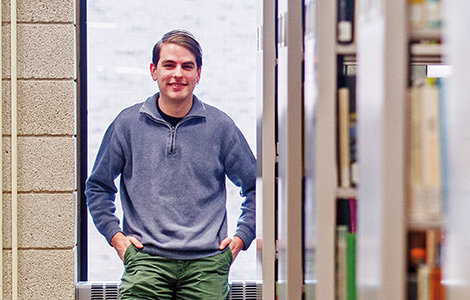 Story Series
Bridgewater Magazine
Hometown: East Bridgewater
Majors: English, Secondary Education
Project: Forbidden Voices: Decoding Homoerotic Language in Whitman's "Song of Myself"
Mentor: Dr. Ben Carson (English)
In my essay, I explore how Walt Whitman encodes a distinctly homosexual voice in his writing. Literary encoding occurs whenever a writer subtly or ambiguously incorporates a controversial theme in his or her writing in order to make it more socially acceptable. I hope to decode Whitman's language in his poem "Song of Myself" so that modern readers can more fully appreciate his themes regarding homosexual identity. I was invited to present this research at the Sigma Tau Delta International English Convention in Las Vegas, but it was cancelled due to concerns over the COVID-19 pandemic.
As I am pursuing a career in English education, I am always considering ways in which students might see some aspect of themselves reflected in literary texts. Educators and scholars often analyze how Whitman examines self-identity in his poetry, but they seldom bring sexuality or sexual orientation into this discussion. As many young people – especially those who identify as LGBTQ+ – grapple with sexuality as a central component of their own path toward self-identity, I believe it is both dishonest and detrimental to fail to acknowledge queerness in evidently queer texts. I want to elevate this aspect of Whitman's poetry that is too often ignored. I am less interested in speculation over his sexuality and more in how he textually addresses homosexuality in his poetry.
As literary scholars, it is important that we paint a full picture of the literature we study. Now, more than ever, it is important that we recognize how literature gives voice to those who are too often left unheard.