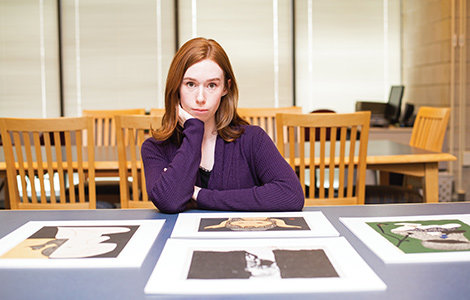 Story Series
Bridgewater Magazine
Hometown: Rochester
Major: Art History
Project: Amamonzeki: The Artistic Practices of Aristocratic Buddhist Nuns in Premodern Japan
Mentor: Dr. Sean McPherson (Art and Art History)
My study explores the lives and artistic works of aristocratic Zen nuns in Early Modern (1600-1868) Japan. Their artistic contributions were prayers for amassing karmic merit in the afterlife or were intended to assist temples in furthering the spread of Buddhism. Art was not only a form of piety for Buddhist nuns, but also sometimes involved sacrifice through ascetic practices. Traditions of self-mutilation carried out by religious women in premodern Japan were performed predominantly by those seeking to overcome their physical attachments and render themselves genderless when male priests hindered their pursuit of spiritual studies. The cultural breadth of the convents can be seen in various objects made from wood, clay, cloth, metal, paper and pigments, and some even attest to religious fervor by incorporating the hair, skin and blood of the nuns who created them. The visual brilliance of these objects convinces us that the imperial convents are extraordinary cultural repositories that deserve further scholarship.
During the summer of 2018, I was awarded a summer research grant through BSU during which I studied Zen Buddhist painting from the Kamakura period (1192-1333). It occurred to me that all my textual sources focused solely on arts created by men.
I became increasingly curious about the women who devoted themselves to Buddhism from its introduction to Japan in the sixth century to the present. With my adviser's guidance and a few directed studies, I decided to focus on the arts created with the Imperial Convents (Amamonzeki) during Japan's Edo period (1603-1868).
There is very little scholarship on this topic. Buddhism has been practiced in Japan for well over a millennium, but I believe the religious, philosophical, social and aesthetic focus seems incredibly one-sided. There is another side – the contributions of females  to Japan's religious history and identity that is missing.