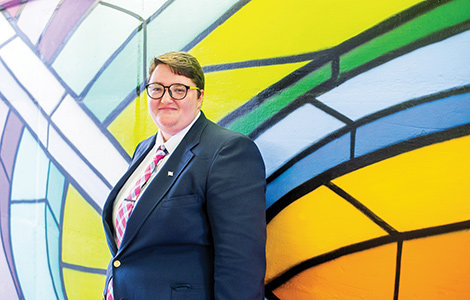 Story Series
Bridgewater Magazine
Hometown: Kingston
Major: Psychology
Minors: GLBT Studies, Women's and Gender Studies
Project: Transgender Health: A Social Justice Education Project
Mentor: Dr. Theresa Jackson (Psychology)
My project focuses on educating health care providers (doctors, nurses, receptionists, medical staff, EMTs and other medical personnel) about the needs of the transgender community. For this project, we created an educational pamphlet to help those working in the medical field become more knowledgeable about the differing needs of their transgender patients.
I have found through my own experiences of being openly transgender since October 2016 that it is very difficult to navigate the American health care system when health care providers are uneducated about the transgender community. This often causes discomfort, gender dysphoria and other complications for members of the transgender community, keeping them from accessing health care or addressing identity-specific health care needs. Because of this, I avoided the health care system for two years. This lack of knowledge along with the gaps between the needs of the transgender community and the knowledge of health care providers fueled my desire to advocate for my own community.
It often feels like members of the transgender community must constantly fight ignorance and prejudice as they try to protect their rights under the law. My project focuses generally on addressing ongoing issues for the transgender community and specifically on the lack of understanding from some in the medical community. This lack of education and understanding often creates barriers to a transgender person's health and well-being. The pamphlet I created is a resource that aims to suggest ways health care can be more inclusive and accessible for the transgender community.