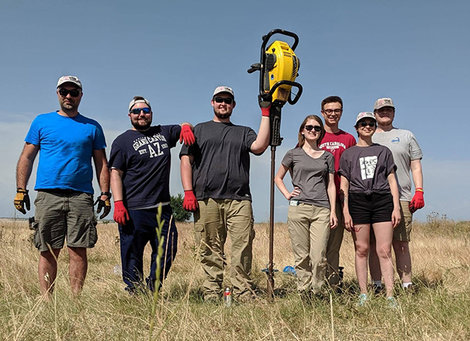 Being over there for two months sounded like an amazing experience and something my family never thought I'd do.
Story Series
News Feature
Bridgewater State University students are hunting for answers to a question that dates back thousands of years: What happened to an ancient civilization once located where today stands the former Soviet republic Georgia?
Five geological sciences and computer science majors ventured over the summer to the country located at the crossroads of Europe and Asia. They are the first of three groups of BSU students to do so, thanks to a three-year National Science Foundation grant and a partnership between BSU, the University of California San Diego, and Georgia's Ilia State University.
The BSU travelers assisted Ilia State researchers and students seeking to determine why a civilization on Shiraki Plateau in southeastern Georgia disappeared in the Bronze Age. Geology students analyzed sediment and looked for signs of ancient waterways, while computer science majors developed software to support research and language apps to teach children Georgian.
Students, who were mentored by Ilia State's Dr. Mikheil Elashvili, were exposed to new research tools and developed an appreciation for the breadth of knowledge their peers possess.
"We got to learn a lot more about software and using computer science in our field," said Kevin Hill, '20, who is studying geological sciences. "It was really cool to mix the two fields."
That's an important takeaway, said Dr. Michael Black.
"I want them to realize there are problems out there they can be having an impact on that never would have otherwise occurred to them," said the associate professor of computer science.
Other faculty and staff contributing to the project include Drs. Christine Brandon (geological sciences), Polina Sabinin, (mathematics), Niki Glen (elementary and early childhood education) and Jennie Aizenman (director, Center for the Advancement of STEM Education).
The trip afforded Ian Washburn, '22, a computer science major, and Kaitlyn Chappell, '21, a geological sciences major, the opportunity to immerse themselves in a foreign culture in a new way.
"Being over there for two months sounded like an amazing experience and something my family never thought I'd do," said Kaitlyn, who made her first overseas trip.
Thomas Smith, '21, an economics and computer science major minoring in statistics, was another BSU student-researcher in the group.
The students treasured their time abroad and the international friendships they forged. They hope to go back.
"I took a piece of Georgia back with me," said Douglas Chamberlain, '20, a computer science major.
Do you have a BSU story you'd like to share? Email stories@bridgew.edu.