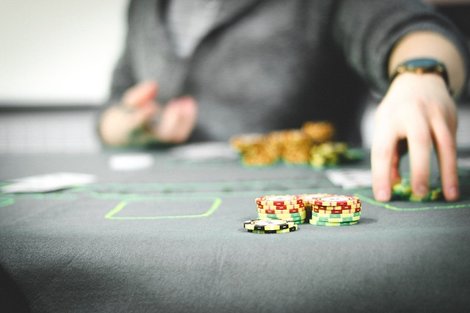 Story Series
News Feature
In Alison Salomone's Bridgewater State University math seminar you're more likely to hear the shuffling of cards and the clinking of chips than the squeaking of a marker on a board.
Her students often sit in groups around tables covered in green cloth playing games like blackjack. But make no mistake, this is a math class. Just look at the probability calculation on the board and listen to the discussions about the math behind the games.
"I think it speaks to the fact that we're open to different kinds of learning, that there's not just value in a traditional learning system," said Ramses Riviere, '21, a management major and philosophy minor from Malden taking the second-year seminar.
Salomone, an instructor in the Department of Mathematics, started the What are the Odds course in 2017. She hoped to attract students who may not otherwise pursue a math seminar.
While playing cards is fun, students learn valuable skills in quantitative reasoning, probability and statistics that are applicable to whatever field they study. And, by understanding the math behind games, they realize how hard it is to win.
"We're showing how games that look enticing are mathematically in the casino's favor," Salomone said.
In addition to covering poker, craps, blackjack and fantasy sports, the class debates the pros and cons of casinos, a discussion that delves into gambling addiction.
The course comes as an emerging casino industry takes hold in Massachusetts. Salomone focuses on the Bay State, particularly prospects for a casino in Southeastern Massachusetts.
The lessons students learn are also applicable outside academia, when they need to assess major decisions such as buying a house, Salomone said.
"It helps with decision making as well," said Denis Kwesiga, '19, (pictured above) a math major with a statistics concentration.
Denis, who is originally from Uganda, said this course is unlike other math classes.
"It's more relaxed," he said. "She makes it fun. It's more engaging. You get to meet your fellow students. There's a bit of laughter as well."
Denis smiled as he played blackjack next to Brianna Wangnoon, '20, who claims she's bad at math. But, Brianna, a psychology major and special education minor from Brockton, decided to take this class rather than a seminar in another discipline.
 "I think it makes (math) a lot easier and allows you to think of it in a different way," Brianna said.
Do you have a BSU story you'd like to share? Email stories@bridgew.edu.