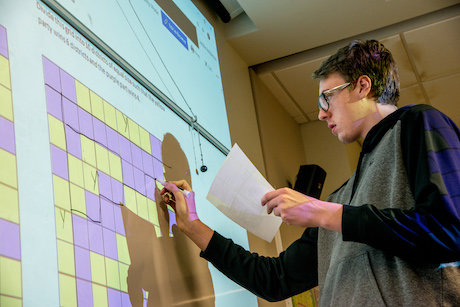 Story Series
News Feature
You may have heard the saying, "All politics is local." But, all politics is math for students in a class currently being taught by Bridgewater State University Assistant Professor of Mathematics Jacqueline Anderson.
Anderson created a first-year seminar that shows the connections between number crunching and politics. Students in her Math and Politics course explore polling, gerrymandering, the ways in which other countries elect officials, and how seats in Congress are divvied up. Along the way, they learn geometry, logic, statistics and data analysis.
"I hope they take away from it a sense of the versatility of mathematics," Anderson said. "It really is applicable in so many aspects of their lives."
First-year seminars are small, discussion-oriented courses where students explore a topic of interest. In Math and Politics, discussions touch on issues making news in the run-up to the Nov. 6 midterm election.
Anderson hopes the seminar boosts students' civic engagement and excitement to vote in all elections, from contests with national implications to races for local city councils and school committees. 
Anderson, who has always been interested in politics and government, sought to develop a course that would appeal to students who would not otherwise be inclined to study mathematics. Two summers ago, she attended a workshop on gerrymandering and math at Tufts University. That professional development experience gave her the necessary expertise to launch the BSU course last spring.
At a recent class session, students used grids featuring 60 purple squares and 40 yellow squares that represented voters inclined to vote for certain parties. Their challenge? To create a normal set of 10 districts as well as a gerrymandered set of 10 districts that led to the yellow group having more representation. 
The class members have also debated the pros and cons of the Electoral College and learned about the myriad of ways elections are held around the world.
"I enjoy it. It's definitely interesting," said William Colarusso, '22, a computer science major from Barnstable. "I didn't know what to expect and it's definitely surprised me."
Courtney Crowley, '22, of Arlington, has always been interested in politics, but said this class prompted her to become a political science major on top of her special education major. 
Alexis Moulthrop, '22, came into the course knowing little about politics. Now, she finds herself more inclined to peruse election content on Twitter and relate it to what she's learned in Math and Politics. The early childhood education major from Kingston, said: "This class has definitely made me want to vote more." (Photos by Charlie Peters)