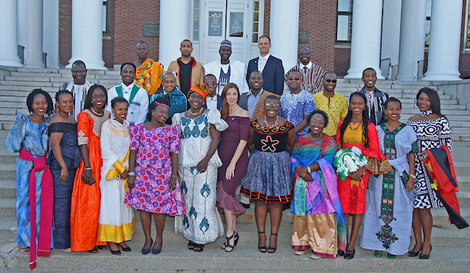 Story Series
News Feature
A taste of Africa is coming once again this summer to Bridgewater State University.
For the fourth consecutive year, the U.S. Department of State-sponsored Mandela Washington Fellowship for Young African Leaders has chosen BSU to host some of the continent's brightest emerging leaders. This year, Bridgewater is the only college or university in New England – and one of just 27 across the country – selected as an institute partner.
The program, founded in 2014 and administered by the International Research & Exchanges Board (IREX), helps fellows develop leadership skills as they take part in academic study, mentoring, networking, public service and other activities. They also build strong ties with U.S. citizens they interact with. After returning to their home countries, fellows participate in alumni programming to continue building skills and networks.
Nearly 3,700 fellows have taken part in the program thus far and positively affected more than 45 million people across Africa, according to IREX, which recently announced Bridgewater as a host institution.
BSU will welcome 25 fellows beginning June 19 for a six-week leadership in public management institute. The program is designed for those who work or hope to work in government, regional or international organizations, or other fields of public service. Fellows, who range in age from 25 to 35, learn about U.S. public management models and best practices.
Funded by the U.S. Department of State's Bureau of Educational and Cultural Affairs and working closely with its implementing partner, IREX, host institutions will offer leadership programs that will challenge, motivate, and empower these inspiring young leaders from Africa.
Last year's group (pictured above) toured a high-tech simulator program at Boston Children's Hospital, visited the homelessness assistance and prevention organization Father Bill's & MainSpring, and saw a demonstration of drones. They also participated in summertime life in Massachusetts by walking in Bridgewater's Independence Day parade and enjoying a Cape Cod clambake.
Dr. Wing-kai To, assistant provost for global engagement and senior international officer, leads the institute. Dr. Michael Kryzanek, professor emeritus of political science, serves as academic director. (Story by Brian Benson, University News & Video)
The Mandela Washington Fellowship for Young African Leaders is sponsored by the U.S. Department of State with funding provided by the U.S. Government and administered by IREX.  For more information about the Mandela Washington Fellowship, visit yali.state.gov/mwf and join the conversation at #YALI2019. 
Do you have a BSU story you'd like to share? Email stories@bridgew.edu.