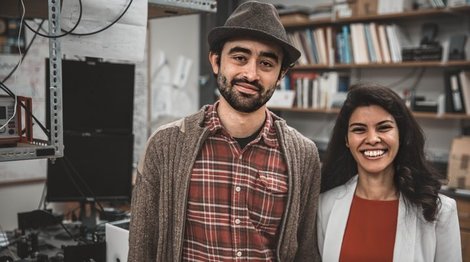 Story Series
News Feature
Bridgewater State University continues taking steps toward the goal of becoming a leader in the expanding field of photonics.
The university is preparing to roll out new photonics and optics programs as it prepares to offer its first engineering degree. To meet the growing needs, the physics department has hired two professors, Samuel Serna Otalvaro and Elif Demirbas.
Learn more about Photonics and Optical Engineering at BSU
This fall, Demirbas is developing and teaching Introduction to Photonics and Optics Engineering. She is excited to join what she calls, "one of the pioneering institutes in this emerging field."
"It is fascinating to me that Bridgewater State University took the initiative to start a photonics and optics engineering bachelor's program," she said. "Bringing this program here shows that Bridgewater is taking the lead in innovation and seeing the future promise photonics holds for the state, industry and community."
Otalvaro will be teaching Elements of Physics and laboratory, as well as a class on Advanced Optics.
"One of my main motivators here at Bridgewater State University is to build the photonics engineering program, so I will be creating and teaching different new courses in engineering, optics and photonics," he said.
Both agree that BSU offering this new engineering degree will benefit students tremendously.
"The number of college degrees in engineering is decreasing, causing fierce competition for the relatively small pool of qualified optics technicians and engineers," Otalvaro said. "Engineers are essential for changing the society. It is then fundamental that everyone in society has the access to be trained in this kind of career path."
The knowledge and hands-on experience BSU students gain will help them land internships, and eventually jobs, at photonics and optics-related institutions and companies, Demirbas said.
"Overall Bridgewater State is playing a key role in the photonics ecosystem by educating skilled photonics and optics engineers," she said.