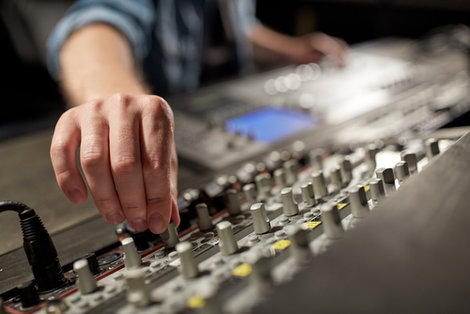 Story Series
News Feature
There's more to producing great music than plucking strings, blowing air through a valve and striking keys. The ensuing melodies must be recorded and broadcast – and that's the part of Bridgewater State University's music curriculum John Krivit is growing.
"Musicians today are at a great disadvantage if they're not fluent in audio technology," said Krivit, past president of the international Audio Engineering Society. "It's not just the wood and strings on your piano or guitar, it's also the software that lives on your computer and other new media technology that makes graduates relevant."
Krivit, who is in his first semester teaching at BSU, is working to enhance Bridgewater's audio technology offerings and equipment, potentially developing a new undergraduate degree in digital music production. The Department of Music is studying the creation of such a program thanks to a BSU innovation grant.
Recently, Krivit chaired the Audio Engineering Society's High School Audio Educators Conference, which drew teachers from around the country to Boston. The conference brought together secondary and post-secondary educators and industry professionals to discuss pedagogy, curriculum, diversity and inclusion, accreditation, articulation, workforce development and technical facilities for teens.
"Audio technology education at the high school level has come a long way, and students are entering college with more skills than ever before," he said.  "It's informing what we do at the college level."
In June, he chaired the society's International Conference on Audio Archiving, Preservation & Restoration. The sold-out event brought experts from around the globe to the U.S. Library of Congress.
"It's another opportunity for graduates to find successful work in the audio world," Krivit said.
Krivit, who also teaches at Emerson College, seeks to help students enhance their skills and make connections in the industry. He runs the Facebook group Hey Audio Student, which chronicles events and opportunities available to audio students at all ages and levels. And, he hopes to bring BSU students to New York Oct. 17-20 for an upcoming Audio Engineering Society convention at which he will be presenting.
"I've always been interested in successful outcomes for my students," he said. "I want to make sure graduates are able to make a living doing the things they came to study."