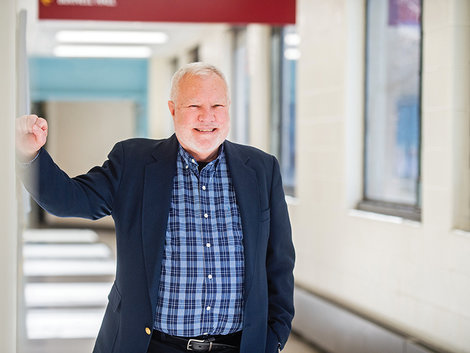 I hope (today's students) take a more active role in politics. Woodstock was an illustration of how young people can make a difference in the world.
Dr. John Marvelle, '72, G'76
Story Series
News Feature
Dr. John Marvelle, '72, G'76, was listening to the radio in his Bridgewater State residence hall when he first heard about plans for the Woodstock music festival. The college freshman couldn't have imagined the critical role he would one day play in keeping the multi-day concert's memory alive.
Marvelle, now an elementary and early childhood education professor at BSU, traveled with his younger brother, Kevin, to Woodstock, which was held fifty years ago this month on a New York dairy farm.
Kevin kept a detailed journal of the performances, which he later gave to John. John then donated it to the Museum at Bethel Woods, which chronicles the 1960s and Woodstock. It arrived at a pivotal time: As the half-century anniversary of the festival was approaching the organizers were having trouble recalling the running order of the performers on that weekend (the famed film and album from the event sequenced the acts out of order).The journal proved instrumental in confirming who played when.
With the festival's 50th anniversary being celebrated this week, we asked Professor Marvelle about his Woodstock experience and the concert's significance today.
Why did you and your brother go to Woodstock?
I was going into my sophomore year at Bridgewater and my brother was going into his senior year at Mansfield High School. We went purely for the music. … I had seen Jimi Hendrix perform before and I had seen a couple other people before. My brother was younger and he hadn't really gone to any concerts. He liked music and played the guitar. It was an opportunity to see some absolutely amazing performers, especially Hendrix and The Who.
Describe your brother's journal.
There were no lights; he would write in the dark. I don't know how he could see the journal half the time because the concerts were at night. … For the most part, he was documenting the music and his reaction to the music. Both Kevin and I saw every performance. What's special about my brother's journal is he documented every act and the order they were performed, which is something that nobody had bothered to do. Nobody knew the order of the performance until we shared my brother's journal with the museum. 
(The journal has been displayed around the world. A reprint is part of Rhino Records' new CD compilation of Woodstock.)
What are you and your brother doing to celebrate the 50th anniversary?
We're actually going out (to Woodstock). The museum was nice enough to get us tickets. They're having a concert by Arlo Guthrie and they're showing the Woodstock movie. 
What should current BSU students know about Woodstock?
I have on two or three occasions told some classes about the experience. I tell them not so much for the idea of people coming together but for the idea of the power of people to change things. It was a time when people were protesting lots of things from how people were treated in education to how women were treated, racial segregation and Vietnam. It was a time when students were making their voices heard. I think that's something over the years we've lost. I hope (today's students) take a more active role in politics. Woodstock was an illustration of how young people can make a difference in the world.
Do you have a BSU story you'd like to share? Email stories@bridgew.edu.