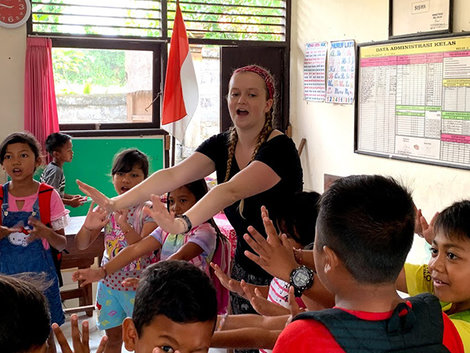 At Bridgewater, "I've found so much passion with everything I'm doing, I know I could not have gotten this at a different school.
Story Series
News Feature
Riley Lathrop, '20, views the classroom as her stage. And for her, studying dance at Bridgewater State University raised the curtain on an innovative way to lead English classes halfway around the world.  
Drawing on her skills as a dance major and love of the art form, Riley used movement, rhythm, and expressions to teach second graders on the Indonesian island of Bali.
At Bridgewater, "I've found so much passion with everything I'm doing," said Riley, who is from Northampton and minoring in management. "I know I could not have gotten this at a different school."
Entering the Indonesian classroom last summer with limited resources and no idea what the volunteer before her had done, she found success teaching body parts, prepositions and emotions.
"Dance is education on its own, but it also can be used as a pedagogy to teach basically anything," she said. "When you're making an expression and vocalizing it simultaneously, you're going to be able to apply it better and memorize it."
Riley's BSU courses introduced her to Indonesia and incorporating movement into her lessons. She is exploring how movement affects instruction in English as a second language. The experience led her to realize that volunteer teachers need training.
Riley presented at the National Dance Education Organization's October conference in Miami and is writing her honors thesis on the topic.
She traveled abroad through the nonprofit International Volunteer HQ and received an Adrian Tinsley Program for Undergraduate Research and Creative Scholarship grant from BSU. During her five weeks in Bali, students became more confident speaking in class and improved their grasp of English.
Riley has grown herself by finding a home in Bridgewater's Department of Dance. She joined student organizations, traveled and learned from faculty such as Dr. Donna Dragon, who excel at meeting individual students' needs and interests.
"The depth and breadth and quality and potential impact of her research is beyond what we would see in undergraduate students," said Dragon, an associate professor of dance. "Her research rivals that of graduate students and even some research of professionals in the field of dance."
Riley is exploring a topic few have studied before, and her work could underscore the need to train volunteer English teachers, Dragon said.
Riley hopes to help make volunteers more effective teachers. The students she met deserve strong instruction, and they only learn English from visitors who may be more interested in being tourists, she said.
She aims to attend graduate school to study teaching English to non-native speakers and potentially pursue that as a career.
"I know I'm set up for so much," she said, "because of this dance major."
Do you have a BSU story you'd like to share? Email stories@bridgew.edu.