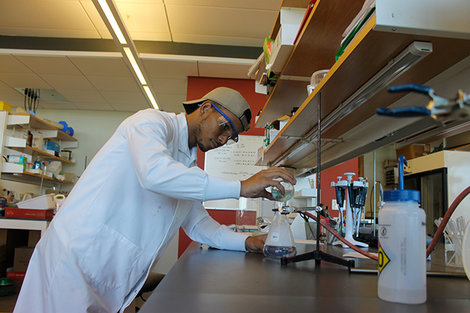 I found really good professors. In the Honors Program I found people who were really helpful, who guided me. … It was the best thing that ever happened to me.
Story Series
News Feature
As a first-generation student, Manuel Pina, '21, had no one at home to ask about the college experience. Fortunately, he came to Bridgewater State University, where about half the student population is first-gen, and faculty and staff eagerly help unlock doors to opportunity and scientific discovery.
"I found really good professors," said Manuel, a chemical sciences major with a concentration in professional chemistry who lives in Brockton and grew up in Cape Verde. "In the Honors Program I found people who were really helpful, who guided me.  … It was the best thing that ever happened to me."
Manuel's embrace of the college experience and BSU's signature undergraduate research program led to a spot in a prestigious, federally funded summer program. He studied proteins at Northeastern University through Research Experiences for Undergraduates, which involves traditionally unrepresented students (such as first-gen) in STEM activities.
He was one of 10 students from around the country selected for the Northeastern project out of more than 300 applicants. Based on his exemplary work over the summer, he represented the group at the Research Experiences for Undergraduates Symposium, Oct. 27-28, in Alexandria, Virginia.
Manuel, who is minoring in math and biology, entered the summer program well prepared, thanks to the research opportunities at BSU, which are available to students beginning as early as freshman year.
"I already knew how research worked and how to do stuff," he said. "It made me stand out in relation to the others."
His summer project involved determining or confirming the function of more than two dozen proteins using software that analyzes them. Results can then be checked through lab experiments.
Manuel's research is far more than an academic exercise because knowing how proteins work in the human body is important for curing diseases and eradicating viruses.
"He's hungry to learn," said Dr. Saritha Nellutla, an assistant professor of chemical sciences. "It's not enough to learn about theoretical stuff in the classroom. He wants to put that knowledge to the test in a lab to see how it works or whether it works."
His success showcases the excellent, affordable education available at BSU and opportunity for one-on-one mentorship given Bridgewater's small class sizes, Nellutla said.
That environment has helped Manuel flourish. He caught the research bug and set his sights on obtaining a doctorate degree.
"After I got here, I discovered the path I want to follow," he said. "I want to go for my PhD in chemistry."
Do you have a BSU story you'd like to share? Email stories@bridgew.edu.