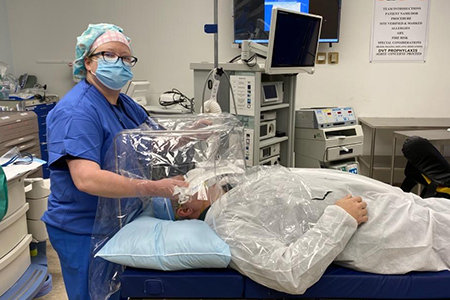 "It's nice to know I can do something to help."
Derek Riley, '03, normally designs and builds intricate staircases and sculptures. But, when a friend came to him looking to protect hospital workers during the COVID-19 pandemic, the Bridgewater State alumnus put his metalworking skills to use in a new way.
"We pivoted from architectural (pieces) to a medical device at a moment's notice," said Riley, who co-owns Concentric Fabrication LLC with Rob Lorenson, a professor in the Department of Art and Art History, under whom he'd studied fine arts.
Riley built a stainless-steel frame draped in inexpensive, disposable plastic that goes around a patient's head during the intubation procedure.
Intubation is a procedure necessary to place a patient on a ventilator. Since the pandemic began, tens of thousands of COVID-19 patients have been put on ventilators to help them breathe. The problem is that when patients are being intubated, they may release infectious material, endangering medical personnel and others.
Riley's friend, anesthetist Tim Putney, sought a better tool than cumbersome plexiglass boxes being used. He asked Riley to take his idea from a rough sketch to actual frames being used in hospitals.
"I jumped on it," Riley said. "It's always fun to have a challenge and even more so to help a friend who is definitely on the frontline."
Tapping into 2D and 3D design skills honed as a Bridgewater State student, Riley made a frame that can be easily cleaned after each use. The barrier between medical staff and the patient keeps everyone safer.
"It's sequestering everyone from each other," he said.
Riley built six frames that are being used at local hospitals, including at Falmouth Hospital where Putney works. The design works better than the plexiglass boxes that don't fit on every bed and, because of their sharp corners, are hard to clean.
Surgeons are even considering using the frames for other procedures.
Ultimately, Riley is glad to use the lessons he learned at Bridgewater State to potentially save lives.
"It's nice to know I can do something to help," he said.
Do you have a BSU story you'd like to share? Email stories@bridgew.edu.