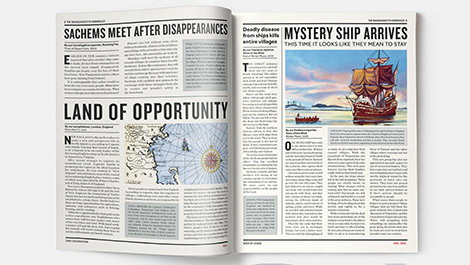 This is not revisionist. It is adding in that which has been left out.
Aquinnah Wampanoag tribe member Linda Coombs
Massachusetts' rich history is on display as never before in a new book for students incorporating a variety of diverse perspectives.
Produced in collaboration with Bridgewater State University, The Massachusetts Chronicles features more than 60 newspaper-style stories covering the 1613 Wampanoag ceremonies marking the coming of spring, the region's resiliency after the Boston Marathon bombings, and many other events.
The inclusivity of the book is especially laudable, said BSU President Frederick W. Clark Jr., '83.
"We're very, very proud of this effort," he said.
Every public school in the state is receiving a class set (32 copies) of the book and a wallchart of a timeline of historical events. The donation is possible thanks to the generosity of BSU benefactors Bruce R. Bartlett, '68, and Patricia A. (Quinn) Bartlett, '67.
Aquinnah Wampanoag tribe member Linda Coombs and United Kingdom journalist Mark Skipworth co-wrote the book, which includes pieces on Indigenous, women's and Black history.
"This is not revisionist," Coombs said. "It is adding in that which has been left out."
The Massachusetts Chronicles is a collaboration of many educational, cultural and Indigenous organizations, including Plymouth 400. While Plymouth 400 commemorates the 400th anniversary of the founding of Plymouth Colony, Executive Director Michele Pecoraro, '79, noted that Massachusetts' history stretches back 12,000 years.
"This book was written with all of the different perspectives on history in mind," she said.
The initiative includes a guide for teaching local history. And, BSU offers a microcredential around using the book in classrooms. The credential, one of several Bridgewater developed about civics, counts toward educators' required professional development.
"It's another way to engage teachers and inspire teachers to use this with their students," said Dr. Jo Hoffman, associate professor in the Department of Elementary and Early Childhood Education. "Hopefully, it inspires students to think about their own civic learning in some way that's meaningful to them."
The project comes as the state puts increased emphasis on teaching civics.
"This entire effort will put Bridgewater State University in the center of civics education in this state at a critical time," Clark said.
Do you have a BSU story you'd like to share? Email stories@bridgew.edu.