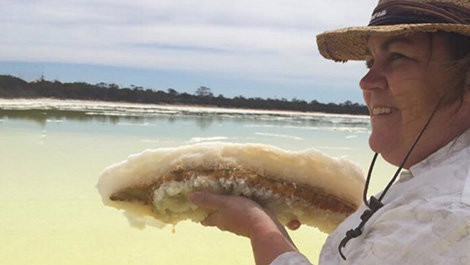 My professors at Bridgewater taught me it was really important to be curious as a scientist.
Dr. Kathy Counter Benison, '90
Geologists often study what lies beneath their feet. But Dr. Kathy Counter Benison, '90, is gazing skyward.
Benison is studying rocks on Mars with the goal of determining whether there was ever life on the red planet. Her time as a Bridgewater State student left her with a strong foundation and the right attitude for the challenge. 
"My professors at Bridgewater taught me it was really important to be curious as a scientist," said Benison, who majored in chemistry and geology.
Benison is part of a team working with the rover Perseverance on NASA's Mars 2020 mission. Perseverance is 80 percent through its journey to Mars and expected to land on Jezero Crater on Feb. 18.
It will spend at least one Martian year (equivalent to about two years on Earth) seeking signs of ancient life and, with guidance from Benison and her colleagues, collecting rock samples about the size of a pen. Scientists hope to bring the samples to Earth during a future mission.
"It's this huge problem to be able to study a different planet," she said. "Part of the excitement is this is the ultimate problem-solving scenario." 
Benison, a professor at West Virginia University, studies acid salt lakes in Western Australia and Chile as well as those that existed 250-260 million years ago on a giant continent called Pangea. They are like past environments on the Martian surface, giving her ideal experience for the mission.
"It's very impressive," said Dr. Richard Enright, one of her professors at Bridgewater State. "She's a go getter. … As a student, she wanted to be an expert in her field."
Benison initially went away to college but opted to return to her Abington home and spend a semester at nearby Bridgewater State.
With small class sizes, even for introductory courses, she found her perfect learning community. 
"I fell in love with it and decided to stay," she recalled.
She helped start a Bridgewater chapter of the Earth sciences honor society Sigma Gamma Epsilon and enjoyed field trips to upstate New York, Canada, Mexico and Hawaii. Professors Enright, Robert Boutilier, Ira Furlong and Jacek Sulanowski guided her toward her eventual career.
"They were all super helpful to me. They prodded me toward graduate school," she said. "It was at Bridgewater where I saw I could do a combination of teaching and research."
Now, Benison leads her students on similar trips to those she experienced as a Bridgewater student. In fact, one excursion to Hawaii coincided with a BSU trip Enright led. The students and faculty even met for a luau.
"I couldn't have been more proud when I saw her," Enright said. "It's like seeing your own kids be successful."
Do you have a BSU story you'd like to share? Email stories@bridgew.edu.