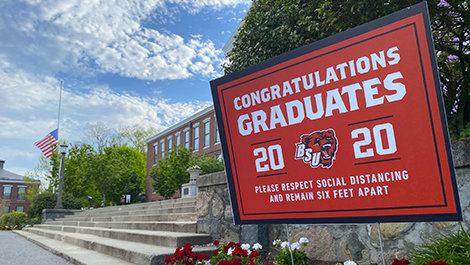 "Bridgewater State overall has made me a more confident person. They've introduced me to a ton of people who I know will be there for me when I'm looking for jobs."
Story Series
Class of 2020
The College of Graduate Studies' Class of 2020 is ready to bring their compassion, expertise and ingenuity to the world. And, they credit their Bridgewater State University education with making it possible.
We asked several graduates to reflect on their time as Bears and how Bridgewater State set them up for success.
Illuminating new opportunities
Gale McCall once didn't know Bridgewater State even existed. The South Carolinian wasn't familiar with northern schools.
Fortunately, her mentor is Michael Akinbola, G'17, an assistant athletic trainer and physical therapist for the New England Patriots. The BSU graduate recommended his alma mater's athletic training program.
"I feel like I developed a lot of good relationships," said McCall. "From everyone in the College of Graduate Studies to my professors and classmates, it was pretty tight-knit."
She appreciated the funding available to students, which she said is superior to what she sees elsewhere. So too were the clinical rotations, where McCall worked at Harvard University, Stonehill College and the Texas Legends of the NBA G League.
McCall, who earned her Doctor of Physical Therapy degree from Emory University, hopes to work with professional athletes. While the COVID-19 pandemic affects the job search, McCall knows her Bridgewater connections will be there for her when she's ready.
"If you say you want to do it, someone in that network is going to help you do it," she said. "Every person I've met at BSU was a little bit of sunshine in all the snow and rain in Massachusetts."
Commitment to service
Cassandra Laslie and Christopher Welch came to Bridgewater as undergraduates unsure what their futures would hold. They're leaving with Master of Public Administration degrees and a new outlook on rewarding careers.
"BSU has reshaped my life and my worldview," said Welch, who is from Fall River and aims to earn a doctorate in environmental public policy.
Laslie, who is from East Bridgewater and studied art as an undergraduate, knew little about public and nonprofit work until graduate school. Now, she sees her future in the nonprofit sector.
"The word 'constituent' wasn't even in my vocabulary," she recalled. "It's opened up my eyes to a totally different world."
Laslie interned at Massachusetts Wonderfund, a nonprofit supporting children served by the state Department of Children and Families. Welch gained hands-on experience at Cape Cod Commission, a regional planning agency.
"BSU helped me to understand what my purpose is and what career I would like to pursue," said Welch, who has a graduate certificate in applied anthropology and bachelor's degree in history.
Both benefited from BSU's commitment to student success. Welch, whose mother survived COVID-19, received assistance paying his rent during the pandemic from the Student Emergency Fund. Laslie praises the support of Dr. Melinda Tarsi, who will be a mentor and friend long after graduation.
"Bridgewater State overall has made me a more confident person," she said. "They've introduced me to a ton of people who I know will be there for me when I'm looking for jobs."
Planting seeds of change
Michelle Little started her career as a landscape designer. Thanks to her graduate studies in clinical psychology, she will help people blossom and grow as they overcome substance abuse and mental health challenges.
"The education was phenomenal," said Little, a single mother from Whitman whose son, Michael Lauzon, is a BSU undergraduate. "Some of the courses I had were incredibly self-reflective and helped me figure out where I am in my development."
Little, who earned her bachelor's degree three decades ago, lost landscaping clients during the 2008 recession. That prompted her to reconsider her career and, because she has family who faced substance abuse disorders, pursue psychology.
She appreciated how easy it was to resume her education at Bridgewater, including taking several prerequisite classes before she could pursue a graduate degree.
"BSU absolutely prepared me well," said Little, who has one more class to complete this summer. "It's such a great program. I really learned so much. I'm going to miss school a lot."
Little interned at Community Counseling of Bristol County and plans to continue working there, where her skills will be especially needed because of the COVID-19 pandemic.
"I know that it's going to explode," she said of demand for mental health care. "There's going to be a lot more people who need services."
Do you have a BSU story you'd like to share? Email stories@bridgew.edu.