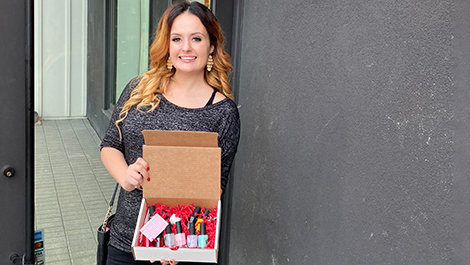 "Bridgewater gives you so many opportunities to take classes that will actually affect you in life."
Sarah Springer, '14, has taken Bridgewater State University pride to a whole new level. To see how, just look at her customers' fingers.
Springer started a nail lacquer business. When searching for a meaningful name for a particular color of red, this Bear's obvious choice was "Bridgewater."
As an art major (with concentrations in graphic design and fine arts) and management minor, Springer graduated with the perfect skillset to become her own boss. She runs a graphic design company as well as GOAT Nail Lacquer – yes, GOAT is a reference to another Massachusetts institution – Patriots quarterback Tom Brady. (For non-fans, it stands for "greatest of all time.")
"Bridgewater gives you so many opportunities to take classes that will actually affect you in life," said Springer, who grew up in Leominster and is now an entrepreneur living in San Diego. "It was one of the pillars that brought me here."
Springer almost never enrolled at Bridgewater State. She wanted to go to school in North Carolina, but that proved financially unfeasible. She came to BSU and quickly discovered she'd found the right place to prepare her for the future.
Bridgewater also expanded her geographic horizons. Springer would have never considered moving to the West Coast if not for a graphic design project in Professor Mary Dondero's class. Dondero assigned students to do something they had never done and make a project about it. Springer visited family in San Diego and fell in love with West Coast life.
Her BSU education provided much more than the confidence to do something new. With a solid background in design, Springer knew she could learn tools such as website coding on the job.
"It taught me how to build upon skills," she said. "Learning how to learn is one of the most important things."
After working in real estate marketing and building connections in southern California, Springer set out on her own, starting Springer Graphic Design in 2015. She hasn't looked back.
Springer, who works with clients in the beauty industry, struggled to find nail polish that met her environmental and animal welfare goals. So, last year, she took matters into her own hands. GOAT Nail Lacquer took root with help from color specialists, chemists, manufacturers and others in the industry.
Her lacquers are vegan (there are no animal products such as fat and fish scales in them) and cruelty-free (they are not tested on animals). They also do not contain several toxins found in many nail polishes.
And, thanks to her BSU education, Springer is on a career path that brings both success and happiness.
"You should really only do the things you love to do," she said, "or else, why bother?"
Do you have a BSU story you'd like to share? Email stories@bridgew.edu.