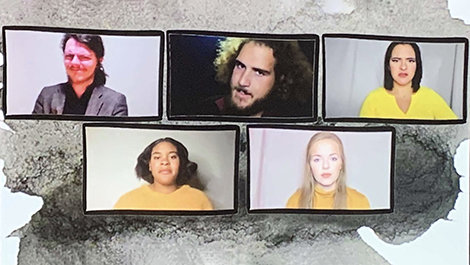 "We're inventing something brand new as we're doing it. To get this sort of recognition is wonderful."
Emmett Buhmann, associate professor of theater
When Colin Lamusta, '22, first attended the Kennedy Center American College Theater Festival, he played a supporting role for a performing classmate. This time, the spotlight shone directly on Colin and his castmates.
That's because Bridgewater State University's production of Antigone Ablaze was one of 10 works showcased in this year's regional festival for schools in New England and part of New York. The festival, affiliated with the Kennedy Center in Washington, D.C., showcases the best in collegiate theater.
"Getting an opportunity to perform it again is the goal of producing any show," said Colin, a political science and theater arts major from Lynnfield.
The Department of Theatre produced Antigone Ablaze in October as its first foray into virtual performances. To meet pandemic physical distancing requirements, actors presented their new take on the ancient Greek play from their homes and residence hall rooms, with each showing streamed live. For the festival, students set up their personal stages to perform again.
"The festival is trying to get excellent examples of collegiate theater in our region to showcase," said Emmett Buhmann, an associate professor of theater.
The process to land a coveted spot starts when experts attend productions across the region to provide feedback to the cast and crew. Shows completing that process can be submitted for festival consideration.
The honor is especially meaningful because students persevered through numerous challenges while performing a new form of theater, Buhmann said.
"We're inventing something brand new as we're doing it," he said. "To get this sort of recognition is wonderful."
Leading up to last week's festival, actors looked forward to the performance, networking opportunities and workshops.
"I'm so excited they're still doing it and I'm part of it," said Madi Bradbury, '23, a theater arts major from East Bridgewater who also performed on her own in a musical theater category.
Dee Duffie, '24, who is from Taunton and studying elementary education and theater, added: "I'm very excited to share my art with others."
Students appreciate that BSU provides the chance to perform and attend a festival amid COVID-19.
"It would be very easy to use the pandemic as an excuse to not engage in these activities," Colin said.
Do you have a BSU story you'd like to share? Email stories@bridgew.edu.